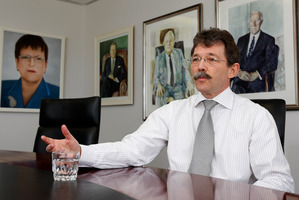 National's Rodney MP Mark Mitchell could be excused for feeling a little bit jumpy. The former policeman seems to be the forgotten man in all the speculative talk about the Conservative Party replacing Act as one of National's support partners.
As National's president Peter Goodfellow cautioned yesterday, people may be getting a little carried away, given it is only six months since the last election and 2 years until the next one.
Nevertheless - as Mr Goodfellow also pointed out - the incontrovertible fact of life under MMP is that winning or holding on to power dictates cobbling together a governing arrangement which controls more than half the seats in Parliament.
With Act now most unlikely to bring in any more MPs in 2014 than it did in 2011 in the form of a lone John Banks, electoral logic suggests the Conservatives' leader Colin Craig be given a free run by National in Rodney, the seat he stood in last year and in which he secured more than 21 per cent of the vote, pushing Labour into third.
The Conservatives won 2.65 per cent of the party vote last November. Under the "one-seat" threshold, the party would have had three MPs if it had won an electorate.
Mr Craig, however, is averse to any "stitch-up deal" of the nod-and-wink kind which allowed Mr Banks to hold Epsom for Act. Mr Craig believes his party can top the 5 per cent threshold on its own.
Mr Craig has also not been slow in declaring he would stand in Epsom if Mr Banks packed it in and prompted a byelection in that seat.
If there is a byelection - and that remains unlikely - National would put up a candidate with the intention of winning this time. It would be asking too much of Epsom voters to back yet another minor party candidate even if Mr Craig actually wanted an Act-style "cup of tea" electoral accommodation.
National would also have to go through the pretence of selecting a candidate it did not want to win. If it did not put up a candidate and Mr Craig lost, however, National would have to rely on the Maori Party to win every vote in Parliament. If Mr Craig won the seat, National would not be able to pass its landmark partial asset sales enabling legislation. On top of all that, Mr Craig's brand of moral conservatism - pro-smacking, raising the drinking age, life jail sentences meaning life - do not sit comfortably with an urban liberal seat such as Epsom.
From National's point of view, Rodney is the better option. Senior National sources, however, indicated a deal might be a stretch too far following the Epsom experience.
Closer to the election, National's self-interest may dictate otherwise if the party is not polling at high levels.
A deal would mean a party vote for the Conservatives would not risk being a wasted vote. A small bloc of Conservative Party MPs could avoid what now looks like becoming inevitable - John Key having to u-turn on his refusal to enter post-election negotiations with Winston Peters.
The biggest question is whether Mr Mitchell and his Rodney electorate organisation would oblige Mr Key and willingly partake in an Epsom-like deal in exchange presumably for a compensating slot high up National's list.
But that is a question which National Party bosses will not be asking for quite some time - and only if they have to.
National currently has more than enough on its plate by way of trouble without buying some more within its own ranks.