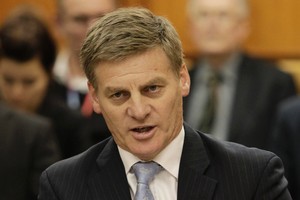 Did the wrong words just come out of Bill English's mouth when he told a radio station a month or so ago that theoretically a comprehensive capital gains tax was the right thing to do?
Or did that surprising statement indicate he is not as totally opposed to such a tax as his opposition to the one Labour is promoting would suggest?
Labour suspects the latter. It was not the first time the Minister of Finance had sounded equivocal on the subject before Phil Goff threw the idea into this year's election mix.
What was even more surprising was that it was Labour asking the questions about a capital gains tax in Parliament yesterday - not National.
It has been nearly three weeks since Labour unveiled its preferred model of such a tax. Among a number of ploys to ensure the details got maximum, unobstructed and undiluted coverage, Labour deliberately timed the unveiling just as the House was rising for the school holidays so National could not run interference through loaded questions to its ministers.
Yesterday was thus the first opportunity in Parliament for National to pick holes in Labour's tax package. It didn't happen - despite National having had plenty of time to analyse it and find fresh fault.
While Parliament's rules stop ministers commenting directly on Opposition parties' policies - it not being their responsibility - there are ways to get around those rules.
But National did not set down even a single question on tax yesterday. Instead it was two senior members of Labour's economic team, David Cunliffe and David Parker, who went gunning for English.
Cunliffe asked the minister if he still stood by what he had said on radio. English said he stood by the statement "that tax theorists do support a comprehensive capital gains tax". And "comprehensive" meant all capital gains, including the family home.
Cunliffe then pointed out these so-called "tax theorists" had determined that in 31 of 34 OECD countries with a capital gains tax, only Japan included the family home. Would English then support a capital gains tax that included the family home? He would not say. He could only confirm the Government did not support a "big-tax, big-spending package" that would mean even more debt.
The questioning continued. Labour wanted to know why the Finance Minister opposed capital gains taxes when the likes of the Reserve Bank, the Treasury, the International Monetary Fund and economist Gareth Morgan were advocating one.
English hit back by mixing the words "big", "tax", "spending","debt" and Labour in various combinations.
It was a hint of how National will attack Labour's tax. It has presumably found nothing (yet) in the fine print with which to truly frighten voters. It will try to do that by leg-ironing Labour to its "tax and spend" past.
There will be nothing theoretical about that offensive. And it will be comprehensive.