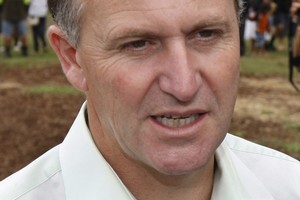 The Welfare Working Group has done what the Government had hoped it would do.
It has come up with a host of recommendations, some of which are fairly radical in a New Zealand context.
The Prime Minister, along with Social Development Minister Paula Bennett and the rest of the Cabinet, can now cherry-pick the ones which are more politically acceptable and discard those which are little short of political dynamite.
Not one to leave things sitting in a vacuum, John Key was already doing as much two hours before the embargo on the group's report had been officially lifted.
He admitted a recommendation that women who have additional children while on the domestic purposes benefit should be looking for work once the youngest child is 14 weeks old had left him feeling "a bit queasy". That was a step too far.
However, he said work-testing a sole parent when the youngest child was aged three made sense as the parent would only have to work 20 hours and it fitted the Government's 20 free hours policy on early childhood education.
Under current policy, work-testing applies when the youngest child is twice that age. So Key sounds moderate although he is actually backing something quite radical in comparison to the status quo.
Key may also feel a bit queasy about a recommendation that parents on welfare have access to free "long-acting, reversible" contraception - a step which some will feel veers close to social engineering.
What may make Key feel really queasy, however, is the upfront cost of weaning people off benefits. Ignoring the highly pertinent question of whether there are any spare jobs waiting to be filled, the report puts the extra cost of increasing access to job search services and providing greater support to those most at risk of long periods of "welfare dependency" at between $215 million and $285 million a year.
But a closer look reveals these figures do not include things like extra childcare for sole parents, extra costs in dealing with doctors' reports and so forth.
The report says even if these costs are significant - and they will be - there remains a potentially, large "fiscal dividend" up to an eventual $1.5 billion a year waiting to be reaped.
The reality is that when it comes to meaningful welfare reform, governments have to spend money to save money.
The extent to which National is willing to do that will be the true measure of its commitment to welfare reform.