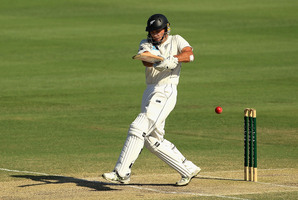 Over the past 20 weeks I've attempted to keep this cricket column as irrelevant as possible. My guiding mantra - rhythm, swing, Michael Laws - in my opinion, has served me well. I've made some powerful friends along the way. I've confused many people, too.
Sometimes my columns have walked the fine line between hard hitting fact and defamation. I've had two cease and desist letters from lawyers representing semi-prominent former national sporting treasures insulted by my ramblings. I make no apologies for my ignorance. I represent the masses. The only difference between me and a talkback caller is my lack of anonymity and the fact I was the holder of the title NZ's Sexiest Man, briefly, in 2002.
Last week's 45 represented a new low for our summer game in the eyes of the media but I took some positives out of the game. First, Dean Brownlie's three-chance century proved it is possible to score runs against South Africa's formidable attack. Even more impressive was a return to the headband from Chris Martin.
I've long been a supporter of The Old Marto and his arm pumping approach to the bowling crease. He seems like a lovely person, Chris Martin. Kind and friendly - almost uncricket-like.
I once chanted his name like a moronic provincial rugby supporter for four hours while he ran through the South Africans at Eden Park a few years ago. He was on fire that day. The crowd of 1320 was in a mild frenzy. His batting record doesn't make for great reading but I've always admired the way he holds his ground against the fastest bowling in the world. His scoring option is limited to a crease-bound prod yet I've never seen him hit on the body or look intimidated.
I'm told headbands provide a useful alternative to hair as an agent of sweat absorption. I recall Lillee rocking one in 1982 at Eden Park. One of the Sri Lankan ayakes (either Champaka Ramanayake or Rumesh Ratnayake - I can't remember) slung his way through the crease in the early 90s with a headband, too.
For a while our greatest batsman Martin Crowe made wearing one under your helmet fashionable but his was more in the style of Daniel San in Karate Kid. Shane Thomson wore a standard white headband under his helmet during the same period but didn't quite pull it off.
Anyway, we were talking about Chris Martin and what a great servant he's been to New Zealand cricket.
Chris Martin is the not so latest in a long line of great number 11s that we have produced. My first exposure to a true number 11 was through Ewen Chatfield. Chatfield's batting became legendary, particularly during the twilight of his career when his arrival at the tail end of a New Zealand innings was a moment to look forward to. Somehow, through his courage and lack of talent, he came to embody the national spirit of giving something a go even when you suck. Ironically he batted for a time with a Gray Nicholls four scoop - the most coveted bat at Parnell Cricket Club in the early 80s among juniors.
Cricket is unique in the way it provides glaring mismatches during the course of a game. I can't think of another sport as cruel as the gentleman's game. It's not really fair to ask Chris Martin to face Dale Steyn - to me it's the cricketing version of pulling the wings off a fly. The worst bowler in the team isn't forced to bowl against the best batsman. In netball, we don't get to laugh while the centre shoots for a quarter. Do pitchers bat in baseball? Who knows? Who cares.
What was I talking about again? Oh, that's right, what an amazing servant to New Zealand cricket Chris Martin has been. Let's pray he gets to wear that headband one more time.
Can I suggest he goes more Karate Kid on it in the next test?