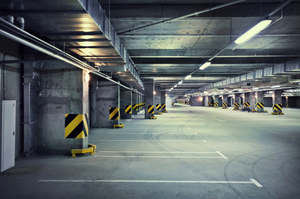 The places you're least likely to find love or warmth, in any form, are as follows: a carpark, a petrol station bay, an airport, a bridge and an elevator.
The carpark is one of those necessary, indifferent, sterile evils, in which we do all we can to leave as promptly as possible. It's highly embarrassing to drive a car as it is, let alone park, lock and walk away from one. The smell is not nice in a carpark; it's a cauldron of concrete, carbon monoxide and cat's piss. The human form is revealed in all its repugnant nakedness there, scurrying desperately against a heartless backdrop of communist-era concrete beams.
Lest we forget, those mechanical arms are ghastly, those pay machines officious. It's therefore little wonder there's no room for warm human interaction. You aren't exactly going to heartily chin-wag in a heartless carpark. No, people are quite happy to pay whatever fee, just to get out of the awkward mess.
A petrol station bay is a hassle and hustle. You oftentimes have to jostle for your position at the right pump. This can be very difficult in teeming times, aggravated by the fact many clients are just there to get ice creams in the first place (which doesn't stop them from parking in front of your much-needed pump, anyway). Like a carpark, warm human interaction is at a minimum.
Unlike a carpark, at least the petrol makes the place smell good, in a decadent sort of way. At least you get a consolation prize.
Airports are fascism commercialised. The sense of finality in flying somewhere is daunting enough, so the last thing one needs is to be brusquely ushered like lambs to the slaughter on to a screeching plane. Moreover, the endless succession of queues never did anyone's nerves any good at airports, unless they were English.
It's all a matter of waiting, waiting and waiting to be processed by a largely unsmiling, suspicious ground staff. Most often, any pleasantness on their part is forced - as forced as the digestion of the actual airplane food. What's more, an airport is attached to a series of foul-smelling carparks!
A bridge without foot traffic is no picnic either, unless you like narrow lanes, high winds and confrontational tailgaters.
That carpark/petrol station-related sense of urgency is palpable on a bridge, a need to get over the damn thing as swiftly as possible. One must be on the lookout for bombings, jumpings and blocked lanes.
The view is good for the passengers, but the poor old drivers have no chance to enjoy it, unless, of course, they like running the risk of being ramped up by the median barrier, or connecting with another car. The situation is serious.
An elevator, despite what the tired movies suggest, isn't any place for intimate, human connection, erotic or otherwise. No, it is a helpless box of absolute awkwardness, where politeness is fumbled, courtesies are faked and all manner of stenches are endured.
Nothing of conversational note can be uttered in an elevator, as the National Guard just might be on-guard.
You never know who's listening, so the atmosphere is strictly communist. There'll be no kind of metaphorical hot air in an elevator.
Yes, alas, there will be plenty of physical hot air, should the damn thing jam or get stuck. So my advice would be, in such an unfortunate, unlikely event, to sit down, as hot air rises.
That aside, all one can do is twiddle one's thumbs, rock on one's toes, and grit one's teeth through the supermarket music overhead and overheard. The only meritorious thing one can do in a elevator is get out, I think we can all agree.
Gosh, we're a patient lot in the restless West.