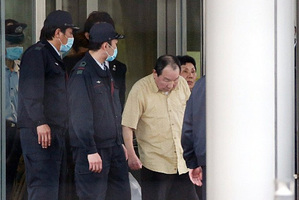 A Japanese court has decided to release a man who was sentenced to death in 1980 in a high-profile murder case based on new DNA evidence.
The Shizuoka District Court yesterday suspended the death sentence for 78-year-old Iwao Hakamada and ordered him released after 48 years behind bars.
Guinness World Records lists him as the longest-serving death row inmate. The top court sentenced him to death in 1980.
The court says DNA analysis obtained by his lawyers suggests investigators fabricated evidence. It also ordered a retrial.
The ruling underscores Japan's much criticised closed interrogations that rely heavily on self-confession.
Hakamada was convicted of killing a company manager and his family and setting fire to their home, where he was a live-in employee.
Prosecutors have four days to appeal the court's decision.
Amnesty International said it hoped there would be no appeal. "It would be most callous and unfair of prosecutors to appeal the court's decision. Time is running out for Hakamada to receive the fair trial he was denied more than four decades ago," said Roseann Rife, East Asia Research Director at Amnesty International.
"If ever there was a case that merits a retrial, this is it. Hakamada was convicted on the basis of a forced confession and there remain unanswered questions over recent DNA evidence."
Hakamada confessed after 20 days of interrogation by police. He retracted the confession during the trial and told the court police had beaten and threatened him.
His lawyers said recent forensic tests show no match between Hakamada's DNA and samples taken from clothing the prosecution alleges was worn by the murderer.
One of the three judges who convicted Hakamada has publicly stated he believes him to be innocent.