At a Let's Zep concert in Japan, Ian D. Robinson finds this Plant is live and kicking.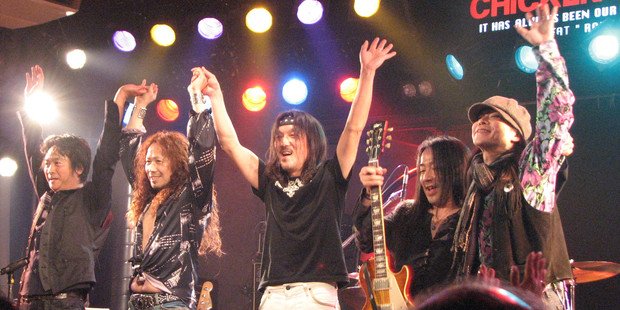 It's a freezing winter night in Kobe, snow is forecast and it feels as if it's about to hit. A friend and I are wandering the back streets of Sannomiya, the city's entertainment district crammed with hundreds of tiny bars and eateries, looking for somewhere to have a beer.
It's not that I'm particularly in need of a drink. I just want to get out of the cold for a while. A small sign on the wall says, "Bar, '70s Rock Music". Sounds good enough, but we don't even make it to the door.
On the stairs we pass a large Japanese man in a long black leather coat and with long, dank hair. He's Sato, the bar's owner, and he tells us the place is shut but invites us to go with him to another bar to see - of all things - a Japanese Led Zeppelin tribute band.
Chicken George, the venue, has been around since 1980. It was destroyed in the Kobe earthquake of 1995 but rebuilt and is typical of Japan's very active live music scene. In any Japanese city on any weekend you can hear live music of any genre from rockabilly to reggae, classical guitar to Congolese drummers and all the way back again.
Inside is a dark cavern of industrial concrete filled with people and cigarette smoke. We arrive just as the warm-up act finishes. There is an orderly rush to the bar as the Japanese crowd has waited politely for the act to end before they get another drink. We buy plastic cups of beer and Sato finds us a table right in front of the speakers.
"Good place?" he asks and points to the stack of Marshall amps.
"Oh, yeah ... great ..."
The main act begins, Let's Zeppelin's guitarist, Jimmy Chang, takes the stage to perform an introductory guitar solo. In fact, he starts by playing his Les Paul with a violin bow, in the style of the master, Jimmy Page. I can't help but think of Spinal Tap.
The drummer, Bonzo Kitahara, takes his seat amid his kit with kettle drums and gongs. He looks the part complete with 70s mo and for most of the set he looks as bored as Charlie Watts. He's joined by bassist John G Saito and, finally, lead vocalist and weekend rock god Isamu Plant strides on to his realm.
Isamu is the real deal. Long wavy, almost Rick James-style hair, open shirt and silver chains, high-heeled boots and tight jeans for the ladies. He does a damn good Robert Plant, too, eyes closed as he screams into the mic on Whole Lotta Love, his hands in the air with perfectly replicated mannerisms.
He's studied hard and has his hero down pat. There's nothing fake about this impersonator. The band is tight and even the vocals are good. Apart from the Oriental faces, I could be watching a young Led Zeppelin, just perhaps when Led Zeppelin were not so young.
The crowd is exclusively locals and not solely the ageing rockers I'd expected. In front of the stage, clapping in time to Black Dog is a granddad, who must have been getting on when Zep were in their heyday.
Behind us is a group of kids who would be in bed now if this were a school night. Sato has dozed off during The Rain Song, lulled to the land of nod by the rock ballad theme of his youth. As for me, my ears are screaming in complaint, I haven't been this close to such loud rock since my 20s.
During guitar changes, Isamu waves to people in the crowd he knows. It seems he has a regular following and talks about the sushi restaurant he runs, his day job when he's not worshipping at the altar of rock.
Jimmy walks to the front of the stage wearing a double-necked guitar and Isamu announces their final song.
"This is a song of hope," he tells us.
The crowd gets to their feet cheering and we all start climbing that Stairway to Heaven, winding down that road and meeting that lady we all know. Isamu throws his head back and crescendos into the microphone as everything turns to gold.
Let's Zeppelin's set ends and the band lines the stage arm in arm, bowing to the crowd which bellows for more. At home, I struggle to sleep despite the not-sure-how-many beers I've had, that ringing in my ears I haven't had for yonks.
Yep, it'd been a long time since I'd rock'n'rolled.
CHECKLIST
Getting there: Air New Zealand operates five services a week to Tokyo (Narita) and four services a week to Kobe.
Further information: See japan-guide.com.