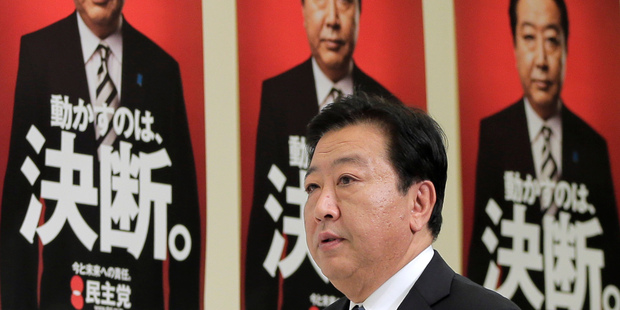 Japan's conservative opposition has swept to victory in a weekend election, giving former Prime Minister Shinzo Abe a second chance to push his hawkish security agenda and reflate the economy.
Voters dumped Prime Minister Yoshihiko Noda three years after his Democratic Party of Japan (DPJ) promised a change from more than half a century of almost unbroken rule by the Liberal Democratic Party (LDP).
Noda said he would be resigning his party leadership in the wake of the drubbing.
But with turnout at a record low and voters complaining of no real choice, Abe acknowledged the result was not a ringing endorsement.
"This doesn't mean confidence in the LDP has been fully restored," Abe said.
"I think this result means a 'no' to the political confusion of the DPJ. People will be strictly watching if the LDP will be able to live up to expectations."
Abe spent the campaign pledging to bolster Japan's defences and stand up to China in a dispute over the sovereignty of a small chain of islands in the East China Sea.
As the results came in, he showed no signs of rowing back.
"China is challenging the fact that (the islands) are Japan's inherent territory," he said. "Our objective is to stop the challenge. We don't intend to worsen relations between Japan and China."
The 58-year-old, who previously served as prime minister in 2006-2007, has vowed to rectify the listless economy after years of deflation, made worse by a soaring currency that has squeezed exporters.
He also offered to boost spending on infrastructure at a time when much of the tsunami-wrecked northeast remains a shell of its former self.
TV Asahi, citing forecasts based on both official results and its own exit polls, said the LDP had won at least 291 seats against 56 seats secured by the DPJ.
Together with New Komeito, its junior coalition partner, the LDP has the two-thirds majority of the 480-seat chamber, enough to override the upper house in which no party has overall control.
In the first national ballot since the tsunami-sparked meltdowns at Fukushima in March 2011, nuclear power had looked set to play a significant role. But parties promising an end to atomic generation made little impression.
The LDP says it will review all nuclear reactors in three years to decide whether to restart them.
-AFP