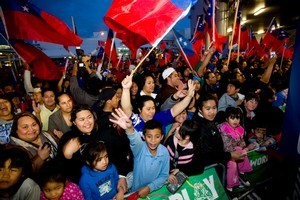 Business risks to Air New Zealand from natural disasters here and in Japan are easing, says international rating agency Moody's Investors Service.
Moody's put Air New Zealand's rating on a negative outlook in March, saying the Christchurch and Japanese earthquakes, and rising fuel costs, created uncertainty for the airline's earnings.
That volatility remained but the rating agency was more optimistic that the risks were diminishing and conditions were more stable.
The airline posted a loss of $37 million for the six months ended June 30, with natural disasters wiping about $70 million from its full-year earnings.
Air New Zealand's ability to cut costs impressed Moody's, which said the airline's lower fuel consumption and cheaper labour costs showed an improving trend. Fuel costs remained the biggest variable, and accounted for about a third of the airline's operational expenses.
Moody's said it expected the airline to show a better debt-to-earnings ratio in the coming year as it cuts capital expenditure, though that would not go far enough to push its underlying rating to investment grade, which would require a "significant debt reduction".
Moody's also cited the airline's liquidity as a strength and expects Air New Zealand to generate between $550 million and $600 million in operating cash flow over the coming 12 months.
The carrier, which is 74.7 per cent owned by the Government, could rely on its dominance in the domestic market to support its credit rating, Moody's said.
The 80 per cent of the New Zealand passenger market controlled by Air New Zealand "is the most supportive single factor" of the airline's Ba1 underlying credit rating, it said.
The government ownership bolstered the rating to an investment grade Baa3, as there was implied support if the company fell over.
"The strength of Air New Zealand's market position was shown in its sustained profitability over the past several years (albeit with somewhat weakened profits in the most recent financial year)," Moody's said.
However the reliance on the local market was also a hindrance for the airline, exposing it to weakness in New Zealand's economy, it said.
Air New Zealand expected a $30 million windfall from the Rugby World Cup and at last week's annual meeting said it was still getting bookings from overseas fans. Christchurch game cancellations reduced the original expectation of $40 million.
Air New Zealand shares closed down 2c yesterday at $1.07.