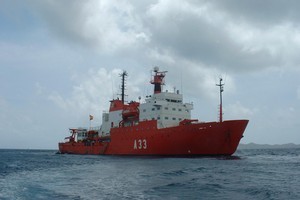 Scientists on board a research vessel which will dock in New Zealand tomorrow are investigating whether nuclear waste from the stricken Fukushima plant has spread to the middle of the Pacific Ocean.
The Spanish research ship Hesperides is halfway through a circumnavigation of the globe, in which its experts are assessing the effects of climate change on the world's oceans.
The Malaspina Expedition will stop in Auckland for three days, and several of its researchers will present findings at the University of Auckland.
Main researcher Carlos Duarte told Australian media that the $23 million, seven-month expedition did not initially plan to monitor radioactive runoff.
Because the nuclear plant in northern Japan was releasing contaminated water into the ocean, it made sense to check the levels of nuclear material in the Pacific.
Mr Duarte said no one was monitoring the spread of radioisotypes, such as cesium-137, because it was logistically difficult to get research vessels to remote spots quickly.
When the Hesperides leaves Auckland, it will begin testing the waters on the way to Honolulu.
Traces of nuclear material from Fukushima have been found on the west coast of America and in fish near the Spanish coast.
In Japan, the runoff has destroyed the local fishing industry, and led authorities to ban fishing and shipping within a 20km radius around the plant.
The tiny doses detected on foreign shores are not hazardous to human health, but Mr Duarte said the contamination could hurt marine life.
"The levels we observe are not likely to be dangerous to humans at present, but over time the levels will be magnified in the food web and with time the levels in the upper level of the food web and the higher predators will probably lead to levels that might be in conflict with human use of those organisms."
GNS Science senior scientist Bernard Barry said any traces of nuclear waste in the Pacific were more likely to be fallout from the air, rather than waste carried by ocean currents.
The Malaspina Expedition is named after the Spanish scientific voyage which took place between 1794 and1798, and included projects in New Zealand.
New Zealand and Spanish historians and marine scientists will discuss the original voyage and the researchers' newest findings in a series of lectures beginning tomorrow.