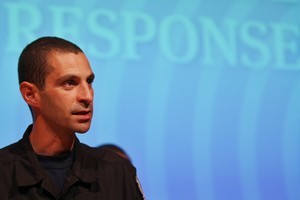 After seven days searching for bodies in rubble and icy blizzards in Japan, returning members of a New Zealand rescue team touch down at Auckland Airport today.
Speaking from Tokyo, fire service national manager special operations Jim Stuart-Black said he was looking forward to returning. He had had only 150 minutes break since the Christchurch quake struck on February 22. "Most of us have rolled back-to-back from Christchurch so we are really looking forward to getting home to our families."
The 52-strong contingent had been sleeping outside in tents in temperatures of minus 17C. They had no successful rescues and pulled only dead bodies from the devastation.
"It's unpleasant work but we are trained to do that," said Stuart-Black.
New Zealand Fire Service chief executive Mike Hall said the Fire Service Urban Search and Rescue team had been working with international and Japanese searchers in the Minamisanriku area, about 200km north of Tokyo.
"Sadly, we consider there is little further practical assistance we are able to provide in terms of search and rescue," Hall said.
Meanwhile, the Auckland parents of an English teacher who went missing during the Japanese tsunami finally received the news they have been waiting for - their son is alive and well.
Steven Brooking, 37, surprised his parents with a call about 8pm on Friday.
His father, Gary Brooking, said it was "wonderful" to talk to his son again.
"He said, as usual, 'Hi, it's me', which was very pleasant."
Steven, who had been living in his apartment in the devastated coastal city of Miyako since the quake hit on March 11, made contact with his parents after reaching a larger town, and getting cellphone coverage.
He hopes to fly home next week.