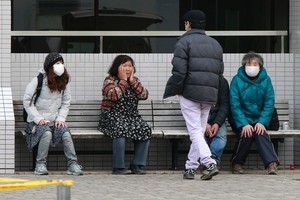 A pregnant New Zealander living near a nuclear power plant in quake-stricken Japan has managed to flee to safety.
Jayne Nakata, nee Lark, lives about 50km from the Fukushima nuclear power plant, operated by Tokyo Electric Power Company.
The plant's cooling system shut down following the magnitude 9.0 quake and radiation levels have increased dangerously - sparking fears of a meltdown.
The former Te Anau woman, 31, and her Japanese husband were able to leave their home in Iwaki City on the east coast after a "series of lucky coincidences".
"I filled my car up with petrol four days before the quake so we had enough to travel 400km if necessary," she told NZPA.
However, Mrs Nakata had still thought it impossible to leave as highways were closed.
But after speaking to a fellow New Zealander, who had managed to drive to Tokyo via country back roads, she decided to take a chance and the couple left on Monday.
"Leaving Iwaki I visited a friend who cried for me because she was so scared that I was leaving and heading into what could have been a dangerous situation.
"As it turns out the most difficult part of our trip was getting out of Iwaki City because the roads were damaged and broken up in some places," she said in an email.
"As we were driving out of town, everyone was going about their business as usual... we were certainly the only ones evacuating," she said.
They drove for two days along the coast before heading inland and were relieved to find smoother roads, running water at rest stops and food and petrol available.
She and her husband were now staying in Tottori prefecture, near Kurayoshi City, about 900km from the power plant.
She no longer feared for her or her baby's life but was constantly monitoring information from Japanese and international sources.
She had since spoken to friends in Iwaki City who told her they were struggling to get out.
"Iwaki city is still cut off. Many of them are stuck there. They have no petrol to go anywhere and now the roads are getting crowded with people leaving."
She had no idea when she would return.
"I don't have any plans to return to my home until I am certain it is safe for me and my child. Luckily I have the support of my husband's family here who wish me to stay here as long as I need to."
Mrs Nakata is due to give birth in June.
Hundreds of thousands of people have lost their homes and at least 13,000 are reported dead after the quake struck on March 11, followed by a massive tsunami that wiped out a number of villages and towns.
The Ministry of Foreign Affairs and Trade said so far, 2104 New Zealanders had been confirmed as safe and well in Japan.
It advised that those living within 80km of the Fukushima plant, 240km north of Tokyo, should leave the area.
- NZPA