Are you in Japan or have you been affected by the earthquake/tsunami? Email us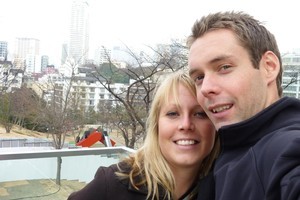 AN EMAIL - THEN NOTHING
Just hours before Japan was hit by the deadly earthquake and tsunamis, Aucklander Steven Brooking emailed his mother, Barbara, as he did most mornings, but his family have heard nothing from him since.
The 37-year-old is an English-language teacher in the coastal city of Miyako, Iwate, that was devastated by the wall of water that crashed through the area.
Father Gary Brooking yesterday told the Herald his son worked in several schools.
"So we don't really know where he was at the time [the earthquake struck]. He spoke to his mother on Friday morning by email so he was there then but whether he was actually at school or he had a day off and went somewhere else we don't know."
Steven Brooking has been teaching in Japan for almost 10 years on and off and was almost a year into his latest stint.
His parents' communication problems have been hampered by the fact that their son doesn't have a cellphone that they know of and they don't know any of his friends.
In the email on the day of the earthquake, Mr Brooking told his mother that he planned to go to a concert, but didn't say where it was.
- Andrew Koubaridis
IT HIT, THEN GOT BIGGER
Former Wellington man Jason Comer has experienced many earthquakes - both in New Zealand and in Japan, his home for the past 10 years.
But he said Friday's 8.9 magnitude quake was "the biggest and scariest I've ever been through" and "definitely the scariest experience of my life".
"I was in my office in Tokyo. My iPhone warns of shaking a couple of seconds before it strikes ... Something about this one felt strange.
"It hit, slowly at first, but then it just kept getting bigger. My computer screen fell over and smashed over my desk. By that time, everyone was heading for the emergency staircase.
"After a couple of hours of standing in a nearby park with my colleagues, I went back to the office to collect some things and then started the walk home."
From his 13th-floor apartment, Mr Comer said, he could see the large orange glow on the horizon across Tokyo Bay to the burning oil refinery in Chiba. He said his partner had been stuck at work because the trains were not moving, but was safe.
Mr Comer is awaiting news from friends who live closer to the epicentre, who he said he had not been able to get hold of.
- Beck Vass
STREETS JAMMED
As his building shook and printers in his office fell over, Auckland man Luke Leaver ducked under his desk for cover.
The energy researcher and his wife, Vanessa Leaver, who moved from Auckland to Tokyo only a month ago, are among those lucky enough to have escaped harm in Japan's earthquake.
The pair had an anxious wait before making contact with each other - which they did when Mr Leaver was able to access Facebook on his phone and find out his wife was safe.
Mr Leaver, 25, was on the 11th floor of his office building at the time of the quake.
He described an eerie calmness in the moments after it struck.
A postal worker delivered parcels to his workplace five minutes after the main quake.
However, the reality of the situation then began to emerge. "The streets were just jam- packed with people walking. A lot of Japanese don't know the way home - they've never walked before - so there were a lot of people standing around asking for directions."
Mrs Leaver, 24, a speech language therapist, was on the subway when the quake hit and said it was not immediately clear what was going on.
- Beck Vass
30KM WALK HOME
Aucklander Tim Havill-Austin was at work on the 10th floor of his office in Funabashi City, Chiba, when the earthquake hit.
Like many others, he endured a stressful 30km walk home. He is counting his blessings. During the hours it took him to get home, he imagined his girlfriend trapped in a building while he was unable to reach her. Calling her, he kept getting the engaged signal and feared the worst. But when he arrived home she was there safe and well, and he learned other friends were also safe.
He said the earthquake and the immediate aftermath were terrifying.
"I went to check on the receptionist to see if she was okay and it just got worse. We grabbed what we could and ran down the stairs," he said. "In the lobby there was a lady screaming and holding her child. I grabbed her by the arm and dragged her out the door."
Mr Havill-Austin went back to get his phone and jacket. Then the second quake hit. He grabbed his phone and just yelled to the receptionist to get out.
"As we ran down the stairs the different levels were moving separately as they were designed to, so I had to jump like some sort of macabre video game."
- Beck Vass
FLOOR MOVED UP AND DOWN
On the 12th floor of his building when the quake struck, New Zealander Ben Beech did not bother getting under his desk.
Instead, he began typing a letter to his wife.
"I felt hopeless. I was terrified that if the quake didn't stop soon, the building might collapse. I didn't think getting under my desk would help much if the building collapsed, being on the 12th floor," he said.
"So I tried to write an email to my wife. My hands were shaking too much to type."
Mr Beech, his wife and two daughters live in Yokosuka, about 60km from Tokyo.
The translator said the quake was unlike others he had experienced.
"Usually the building sways sideways a little in an earthquake. But this one was different from the start - it was as though the floor was moving up and down instead of side to side.
"Then the building started really swaying ... people were staggering around, older Japanese colleagues showed signs of real alarm and some were getting under their desks."
He was among many in his building who decided to run outside on to the road, where hundreds were gathering.
"Office workers all outside on the streets - many were wearing helmets."
Mr Beech managed to call his wife, who was safely at home with the couple's two children.
He rode home on his folding bicycle over wrecked roads for three hours.
- Vaimoana Tapaleao