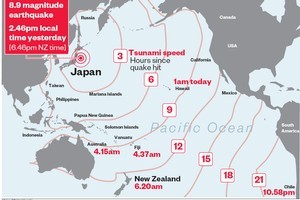 A tsunami triggered by the powerful earthquake in Japan has ploughed across the South Pacific but no serious damage was reported and it was treated more as a curiosity than a danger.
Dozens of low-lying island nations were placed on alert after a monster 10-metre tsunami smashed into Japan following the devastating 8.9 magnitude earthquake centred near the northeastern city of Sendai.
The death toll from the earthquake and tsunami is expected to be more than 1000 in Japan, but the wave appeared to have little power when it hit the South Pacific and there were no reports of lives lost.
In the Marquesas islands sirens blared, warning residents to flee to higher ground. Although waves up to three metres were forecast they were less than a metre when they arrived, but still flooded some houses.
In Tonga, where a tsunami that killed nine people 18 months ago remains fresh in the memory, many people rushed to higher ground for safety while others tested the power of the tsunami by going for a swim.
"The current was flowing differently and you could feel it in the water," said Matangi Tonga editor Pesi Fonua who entered the water near the capital Nuku'alofa.
"We noticed that the water along the reef was higher but the foreshore level by the Dateline Hotel was lower than usual."
Papua New Guinea experienced dramatic and unusual tides but no destructive waves or damage, an official said.
Projections had been for any tsunami to crash into the northern coast which had experienced a devastating offshore quake and tsunami in 1998 that killed more than 2000 people.
But Bill Yomba, manning operations at the Papua New Guinea National Disaster Centre, said locals in northern provinces noted coastal waters rushing in and out but no giant waves.
"These provinces have experienced unusual tides," he told AFP. "They've seen tides they have never seen before... now it's low tide, but the next minute it's high tide again, that's what they experienced."
Australian officials said the wave surges experienced along its vast coastline overnight were in line with projections - measuring only between six and 20 centimetres.
Residents in the Northern Marianas and Guam were ordered to evacuate low-lying areas and head to higher ground before the warning was lifted with no evidence of damage.
In Samoa, Fiji and several other small nations the tsunami warning was raised and lowered without any sign of an ocean surge while in American Samoa a wave of 50 centimetres was recorded at Pago Pago.
Reports from Tahiti said waves swamped beachfront gardens.
- AFP