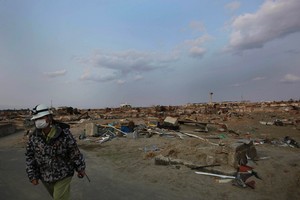 Japanese citizens and authorities in the three main prefectures damaged by the March 11 tsunami have helped salvage US$78 million ($100 million).
The Japanese have turned over more than US$48 million in loose cash to authorities while another US$30 million has been collected from recovered safes since the earthquake and tsunami devastated large swathes of the country.
The Los Angeles Times reported that some of the people who had found cash had waived their right to the money even when the rightful owners could not be found in a region where 25,000 people are either confirmed or presumed dead.
According to Japanese law, any unclaimed money reverts to the authorities after three months. The LA Times was unclear whether the Government was planning to offer the proceeds to a general victims fund.
Police officers and firefighters scouring the debris recovered much of the lost cash, but individual citizens have also done their part.
"People tell me they just want the money to go to its owner," Kouetsu Saiki, a Miyagi prefecture police officer who oversees the collection, identification and return of salvaged money and valuables, told the newspaper.
More than 5700 safes have been recovered, many spotted by residents who summon police to provide the muscle needed to lift the heavy objects, the LA Times said.
So far, all but US$500,000 of the US$30 million found in the safes has found its way back to the rightful owners, Saiki said.
Miyagi prefecture has also seen a high return rate in the salvaged loose cash. Of the US$24 million that has been turned in to police, authorities have managed to return US$21 million to owners, the newspaper said.