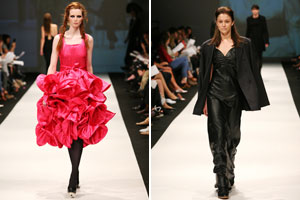 It was bouquets and applause for 10 years of Fashion Week at a special Retrospective show featuring old favourites and lost labels.
Around 40 designers and 80-plus outfits were shown after Fashion Week show producer Yasmin Farry contacted the main designers involved over the decades and asked them to nominate garments. Some could not participate because they no longer had the clothes.
What we saw included some standouts, reminding us of magic moments over the years.
World showstoppers in fuchsia silk and a black wool Swarovski-studded suit rightly blinged out the night before Fashion Week founding director Pieter Stewart and brand manager daughter Myken stood to receive a floral tribute.
Twenty-odd truly memorable outfits, some nicely label representative offerings and a few also rans added up to an overall impression that we mostly like our fashion dark and uncomplicated. Fluid rather than fitting cuts also seem to be preferred.
These designs don't necessarily scream for attention, but often get it for their subtle individuality.
But it's a myth that we only wear black, though there was plenty of it.
The show was punctuated with the likes of Kate Sylvester's red wool cape from her brilliant Wolf collection, Trelise Cooper's coin-sized pink sequin coat and even a cobalt blue mini-crini with dip-back hem from the Dunedin deconstuctionists Nom*d whose menswear started the show with a black jacket with a safety-pin encrusted lapel worn over a long denim skirt.
In between we were reminded of vintage years from the likes of Carlson, Cybele and Hailwood.
Some designers have developed over the years, others peaked early, some weren't that flash to start with and real stars like Zambesi have remained true to their design ethos.
Other established names from an earlier era reminded the audience that we did have designers before Fashion Week, but they just didn't have the same showcase and were less daring away from the runway.
Breakthrough garments from Alexandra Owen and assured but less directional choices from Juliette Hogan and Twentysevennames were more recent.
Of the later crop Salasai stood out with its graphic boldness. It's a shame that promising younger names like Cherry Cotton Candy no longer appear on the roster.
Ten good years worth toasting.