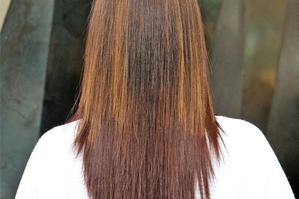 Women with very frizzy or bushy hair battle daily to get it under control. They may not want straight hair - in fact curls and waves are having a styling renaissance - but, if the aim is a polished finish rather than that electric shock look, until recently options have been limited to chemical straightening. That's hard on hair and leaves it looking flattened rather than flowing.
Now there's the choice of a keratin-based treatment for women who don't want a lengthy morning appointment with a blowdryer or straightening iron. The straightening process has its origins in Brazil and spread first to the US, where it is sometimes referred to as a Brazilian Blowout.
It involves applying a keratin-rich formula to the hair over several hours with results lasting up to four months. Keratin is a protein compound found naturally in hair and helps condition it. The treatment doesn't suit those with very fine hair, but it can be used over colour.
There are two main providers of the treatment to hair salons in New Zealand and prices and expertise vary considerably from salon to salon, so shop around if you're interested or better still seek out recommendations. Stephen Marr salons were among the earliest to introduce the treatment and offer free consultations. They use the Global Keratin brand and say it doesn't leave a noticeable regrowth line as chemical straighteners do.
Bettjemans in Orakei use the KeraStraight brand and have perfected their own application and care procedure, dubbing the process the Permanent Blow Wave. Salon owner Grant Bettjeman says he understands some salons don't fully dry hair before applying the treatment which he says is necessary to guarantee lasting results. "This gives a much more concentrated application and therefore a stronger result."
The treatment he uses is also without the dangerous chemical formaldehyde, he says. (Formaldehyde has been found in some Brazilian treatments in the US, prompting a report in Allure magazine warning of the risks and prompting some importers there to change suppliers. In Brazil, there has even been a death ascribed to the at-home use of a black market mix of the straightener, which released toxic fumes.)
Bettjemans says as well as keratin, the Permanent Blow Wave contains white clay and 22 carat gold, and repeat applications continue to improve hair quality.
TESTING IT OUT
Viva fashion editor Ana Macdonald was an enthusiastic volunteer to have her mane tamed at Bettjemans. More than a month after the treatment, which she described "as quite a mission", she says: "I'm still loving it!
"The hair is still so easy and manageable, it has a little body back in it, but it takes no time to straighten and control now, and looks naturally relaxed. I totally recommend it, but not for those who expect permanently, completely poker-straight hair."
Here's her description of the process on her masses of thick, frizzy hair, which was initially left straight and limp (as pictured), but has now developed a sleek swing:
"It's a fairly long process. Stylist Steph said that coloured or damaged hair tends to take [to the treatment] even better than "virgin" hair as it's more porous. Unlike traditional straightening treatments, the Permanent Blow Wave relaxes the hair and although you walk out with hair limp and very straight, the treatment softens after the first wash and becomes more like a blow-waved version of your hair without the frizz. This suits me fine as I've had dead-straight hair and it really doesn't suit me, and being that much easier to manage is a dream!"
Macdonald's hair was firstly washed in the pre-treatment cleanser which was left on for 10 minutes to open up the hair cuticle.
Next, her hair was blow dried to its "usual frizzy mop state". Then the pleasant banana-scented KeraStraight product was coated on sections of hair and blow dried by two stylists using paddle brushes, first with warm air, then cool, to seal the product before the straightening began with special ceramic irons at a high heat.
The straighteners were run over very small sections of hair exactly 10 times to seal in the formula.
"I felt for the stylist because I know how long it takes to wrangle my hair straight," said Macdonald. "She actually said she loved this part, as it is kind of therapeutic." The ironing takes an hour or more, depending on how much hair you have. The end result for Ana was uber-straight, soft and silky hair.
For three days after a straightening, hair cannot be tied back, pinned or even put behind the ears. It needs to be left perfectly straight, after which it can be washed. Macdonald said although she got great comments about how glamorous the stick-straight hair looked, she was happier after it was washed. "It really is like having a professional blow wave in that the hair still has a slight soft natural wave, behaves really well and has absolutely no frizz, even after running around in the rain."
She's been recommending the treatment ever since to anyone with unruly locks.
*A Permanent Blow Wave at Bettjemans costs $500 for short hair and $700 for long hair and includes take-home products and a complimentary blow wave within the next two weeks. Ph (09) 522 8030, www.bettjemans.co.nz
To find out more or for salons in your area see www.kerastraight.co.nz and www.globalkeratin.co.nz