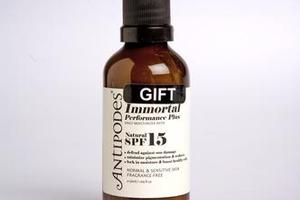 If you haven't bought your sunblock by now, shame. Just make sure you stock up pronto, so your Christmas Day walk doesn't turn into Boxing Day woe. High summer is well and truly upon us and, with the great outdoors beckoning, be a good scout and be prepared.
The days when sunblocks came in SPF4 are long gone; 10 times that rating is not uncommon, but keep things simple by sticking to SPF15 or SPF30. Higher factors sound impressive, but they're not going to give you that much extra protection because their effectiveness degrades over time and most people don't wear anywhere near enough, so you're better to get in the habit of being sun aware and reapplying your block every few hours.
In Australia SPFs are capped at 30, with authorities figuring if people think they have "double" the SPF they'll be twice as safe; yet the reality doesn't bear this out.
Evolu's Kati Kasza cautions: "Many sunscreen users remain confused about what the numbers actually mean. It seems logical, for example, that SPF30 offers twice the protection of an SPF15, when in fact this is not the case."
An SPF rating is the internationally recognised way of working out a control group's average burn time (considered the point of sun exposure at which skin shows the first signs of reddening) combined with multiples of time that can be safely spent in the sun. It's an idealised, averaged calculation and much depends on variables, so err on the side of caution. For example, if a person normally takes 10 minutes to show signs of sunburn and uses a factor 30 block, they will be protected 30 times over, so for 300 minutes, or five hours.
Using an SPF15 they will be protected for half that time, but the level of protection during that two and a half hours will be little different to that of the person using an SPF30. All this assumes that the person is using block in the right quantities and optimum conditions; but simply wearing it means it will inevitably degrade.
Kasza points out that an SPF15 sunblock used correctly filters well over 90 per cent of harmful radiation and SPF30 gives just another 1 per cent or so of protection (albeit for twice as long). "With SPF40 and above, it climbs by a similar tiny increment."
To achieve higher SPF ratings, products have to add more sun-filtering ingredients in greater amounts, usually making for denser, thicker creams. That's why Evolu and a number of other largely companies, particularly in the naturally based skincare sector, generally stick with SPF15, though one that has cracked a higher rating without succumbing to glug is Oasis.
Kasza's view though is: "Arguably, an SPF15 product, used as directed, to all intents and purposes is a sunblock."
Here's a few rules of thumb:
* Use about one teaspoon of sunscreen on the face and roughly a shot glass full on the body.
* Apply sunscreen 20 minutes before sun exposure to let it fully absorb.
* Reapply regularly, especially if you're fair or sensitive, and if you've been perspiring or swimming.
* Avoid the heat of the day and wear protective clothing and sunglasses.
Sunblock selection can seem daunting but a lot comes down to personal preference in texture (cream, lotion, gel, oil-free etc) and smell (with or without fragrance) and whether you want a dual purpose product or not. There are plenty of tinted sunblocks, or moisturising ones, which let you lose at least one layer from your skincare. Personally I prefer to wear a sunblock over my moisturiser, then apply a bit of cosmetic colour as needed, rather than relying on one tube to deliver all, but this summer I'm trying to multi-task more as the combination formulas are improving all the time.
Separate blocks for face and body make good sense. The face has more oil glands and body blocks can feel too heavy up top. Men's oilier skin also means they often prefer an oil-free formula.
The other big decision to make is whether to opt for a physical or a chemical barrier. Most sunblocks contain both as this is an effective way of delivering a high-rating SPF, but new forms of zinc oxide (which help avoid the white-out look of cricket players) are wearable for those who want a physical barrier only.
A physical block reflects UV rays, with zinc oxide and titanium dioxide being the leading examples. Chemical blocks absorb UV rays. Both types wear off.
Skincare company Nivea uses an example to illustrate how the two types of block work, saying a physical block is like a piece of reflective tinfoil under a grill and a chemical block is like a piece of toast absorbing the energy emitted from the griller and changing colour accordingly. Over time, the toast (ie chemical block) will need replacing/reapplying.
Some natural skincare proponents strongly advocate physical blocks, but physical ingredients such as titanium dioxide can cause reactions in some people. Micro-particles of product can also be absorbed.
Chemical blocks are more likely to trigger reactions in sensitive skins, but in most people cause no adverse effects.
Shiseido Sun Protection Eye Cream SPF25 $55
Few eyecreams contain sunblock. This one does, meaning you don't need to rely on sunglasses alone to protect the most delicate facial skin.
(From brand counters.)
Murad Oil-Free Sunblock SPF30 $48.60
From the American dermatologist's range, this gives hydration with a matte finish. A tint is also available and, for particularly oily skins, the SPF15 Oil-Control Mattifier.
(From Caci Medispas Ph 0800 438 438 or www.murad.co.nz)
True Solutions All Day Moisture, 100ml, SPF30 $60
This creamy moisturiser suits all skins and can be used on face, neck, hands and body. I've found it's moisturising enough to skip my regular product in the mornings, so it's good for travel. The Australian salon specialist line also does a lighter SPF15 called Baby Faces (for grownups).
(Ph 0800 575 565 for salon stockists or ww.spauniverse.co.nz)
Antipodes Immortal Performance Plus Natural SPF15 $52
With its glass bottle, this is one for the bathroom rather than the beach. Contains raspberry oil to help filter broad spectrum UV light. The plant-based hyaluronic acid helps moisture retention in the skin and antioxidant-packed Vinanza grape and kiwi extract decreases facial flushing and the melanin production that causes freckles. It's fragrance free and suits normal and sensitive skin.
(From health stores and selected pharmacies and department stores. www.antipodesnature.com)
Trilogy Age Proof Daily Defence Moisturiser with SPF15 $52.90
This is hydrating and a good makeup base; the formula has been rejigged since its release a year ago. With plant moisturisers, hyaluronic acid and vitamins A, E and C. Contains both organic and inorganic UV filters.
(From selected department, pharmacy and health stores.)
Elizabeth Arden Prevage Day Ultra Protection Anti-ageing Moisturiser SPF30 $240
Prevage fans have, until recently, had just about every formulation of skincare but a sunblock. So the introduction of this product has been a big draw, rounding out the range based on the effective anti-oxidant idebenone.
(Brand counters.)
Dermalogica Waterblock Solar Spray SPF30 $90.50
Free of alcohol and packed with vitamin A, C and E, this mists on nicely and is a welcome option compared with some of the heavier active-wear water-resistant formulas out there. Dermalogica makes an extensive range of targeted sunblock, with another goodie being from its Age Smart range, called Dynamic Skin Recovery SPF30 for the face.
(From Dermalogica, Westfield Albany and selected salons. www.dermalogica.co.nz.)
Innoxa Ultra-Lift Firming Moisture Lotion SPF15 $39.90
Collagen stimulation for firming, lifting effect, so gives anti-ageing as well as suncare benefits for mature skin.
(From department stores stands and selected pharmacies.)
Estee Lauder Bronze Goddess Sun Indulgence Lotion for Face SPF30 $55
This range mixes the aromas of amber and coconut cream, with a touch of vetiver, myrrh and sandalwood, for truly indulgent protection. There's also nourishing apricot extract and plant oils. Self-tanners are also included in the Bronze Goddess collection.
(From brand counters.)
Evolu Moisturising Day Cream SPF15 $47
Botanicals to suit all skin types, including kiwifruit and soothing chamomile and vitamins. Nice light texture.
(From selected pharmacies, health and department and stores.)
Clinique SPF30 Body Cream $46
Creamy, without being heavy, this has a luscious feel on the skin. Clinique's relaunched range offers 3:1 UV protection, a ratio of UVB to UVA screening, with UVA being increasingly fingered as a leading cause of skin ageing.
(From brand counters.)
Invisible Zinc ESP SPF30+ $19.99
Zinc oxide is the active barrier ingredient in this range fronted by Elle "The Body" Macpherson. There are tints and a water-resistant block, but this ESP anti-oxidant moisturiser suits all skin types and is the most souped-up offering.
(From selected health stores and pharmacies. www.invisiblezinc.com.)
* Le Tan is one of the first mass market companies to offer a mineral block for face and bodies. The zinc oxide formula is fragrance-free, is suitable for even young skins and having a matte finish can be worn under makeup.
(From selected pharmacies.)
Dr LeWinn's Ultra R4 Restorative Cream SPF15 $99.90
Contains the wonder fruit pomegranate, for its antioxidant and moisturising properties, plus a peptide complex to address collage depletion, in an everyday block for those concerned about ageing.
(From selected pharmacies and department stores.)

Sun savvy
* SPF (sun protection factor) measures the damage from UVB rays, which cause sunburn.
* UVA rays penetrate more deeply into skin, causing longer-term signs of ageing, such as wrinkling and pigmentation.
* Think UVA for Ageing and UVB for Burn, and seek a broad-spectrum sunscreen (as most are) to filter both forms of ultra-violet radiation.
* EPF (environmental protection factor) is the new buzzword in suncare. While it can't be measured in the same accepted way as SPF, it refers to the aggressors that can damage skin.
* Cosmetics containing SPFs are seldom worn in amounts that make that SPF a true rating, so don't depend on them instead of sunblock.
* Don't assume that an SPF30 sunblock and an SPF15 foundation equals a total protection of SPF45. Layering adds a little extra protection, but is not a reliable indicator of true coverage.
* Use sun-protection in the car. Hands are especially exposed, so a handcream with an SPF is good to have in the glove box.

Sun savers
Travel-friendliest
Nivea Light Feel Daily Face Veil 50ml for $10.59 wins the prize for value and portability.
* True Solutions and Oasis (www.oasiscosmetics.co.nz) also make good purse-sized blocks.
Handiest
Hissyfit's Handy Work hand cream ($39) with sunscreen clocks in at SPF30+, smells lightly of orange and mint and contains aloe and vitamin E. It's thickish, but not as thick as Dr LeWinn's, one of the few other heavy duty sunscreen handcreams about. (Hissyfit also makes high SPF lip and body creams.)
Evolu Protective Handcream SPF15 ($19.90 for 50ml) is lighter and feels and smells natural.
Sportiest
Coppertone Sport Ultra Sweatproof SPF30 ($24.99) is waterproof, has a no-slip grip and won't run into eyes. The oil-free range is good for men and active wear and it smells a bit muscular, too. I prefer Coppertone's oil-free lotions, but these gel formulas are popular.
Hawaiian Tropic makes two good active products - an UltraMist Sport SPF30+ and a Sport Dri Touch SPF30+ which goes on like a lotion but leaves a smooth, dry finish.
Neatest
Le Tan Coconut Lotion SPF30 ($29.99).
With its sponge-tip applicator, this goes on easily and non-greasily and offers three hours' water resistance. The coconut smell will seal or nix the deal.
Child friendliest
Nivea Sun Children's Sun Spray ($19.65).
Easy application appeals to children, and the bottle is easy to hold, plus it is coloured for fun. Neutrogena's aerosols are also good, though I find the misting spray gives more controlled delivery.
Manliest
Lab Series Outdoor Skin Defence Spray SPF30 $49
Long-lasting and sweat-resistant, this face and body spray is also breathable and non-greasy. Dries quickly and boosts skin with vitamins and antioxidants providing sun and environmental protection.
(From department stores and Life pharmacies.)
Gillette Series Moisturiser SPF15 for sensitive skin is new from the supermarket shave specialists. Alcohol free and good value.