As part of a series on scientific developments, Jamie Morton reports on a seismic process that could give warning of earthquakes along the Alpine Fault - NZ's largest and potentially most destructive faultline.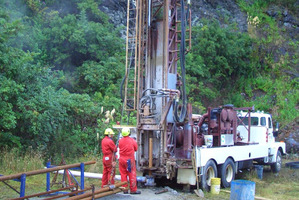 Predicting earthquakes remains a concept beyond the realms of even the best science - but recently discovered rumblings deep beneath New Zealand's most threatening fault line have yielded some exciting possibilities.
This year a report will be released on years of research into the seismic process known as "tremor".
Tremor is a collection of tiny earthquakes usually not detected on seismic networks, and is thought to be a long-lasting slip on fault lines which creates a creaking and groaning kilometres below the Earth's surface.
It was discovered in the subduction zones beneath Japan and under an area on the west coast of North America.
The first case of tremor in New Zealand was found on the Alpine Fault only a few months ago.
Professor Tim Stern of Victoria University's Institute of Geophysics and School of Earth Sciences, who has been at the forefront of New Zealand research, said tremor was seen as important as it could indicate a build-up of stress before a big earthquake.
"The alternative view is that tremor acts like a safety valve to release stress and puts off the likelihood of a major quake."
Which is more likely? That remains the question for scientists, and one that the world's entire geophysical community is trying to answer.
"Only by recording and watching will we know what is right," says Professor Stern.
"But either way, tremor and slow slip seem to be key observations that will lead to an advance of our knowledge on earthquakes and risk for faults like the Alpine Fault."
And the significance to New Zealand was nonetheless large, as tremor had been detected at the roots of our largest and potentially most destructive fault.
"Now that the tremor has been located, it is relatively straightforward to build a simple and cheap [way] to continuously monitor the tremor with time."
Scientists were able to detect the tremor by building a seismic networks with sensitive seismometers placed in bore holes, some up to 100m deep.
The network and software capable of finding patterns among large datasets of activity have given researchers a stethoscope with which to listen to the Earth's murmurs.
"The tremor is found right beneath the main divide of the Southern Alps and [starts] beneath Mt Cook, and we can track them about 50 to 80km to the south," Professor Stern said.
"If a sudden build-up of tremor activity occurs it may be a forewarning of larger events to come."
GNS scientists are to undertake another deep drilling project on the fault this year.
Scientists will dig two trenches 4m deep and 20m long across the fault in a remote area between Franz Josef and Hokitika. It is hoped the work will reveal 1000 years of rupture history give scientists new information on the timing, size and style of big quakes on the fault.
Tremor
What is it?
First reported in 2005, tremor is thought to be a result of slip on fault lines that, rather than short sharp earthquakes, creates a rumble lasting for hours, days, weeks or even years. While tremor is harmless, it could be a pointer to more serious events such as earthquakes.
What has its discovery meant for New Zealand?
Tremor is especially important to New Zealand as it was discovered in the roots of the Alpine fault - our biggest fault and seen by many as the one posing the greatest seismic risk in New Zealand. If a sudden build up of tremor activity occurs it may be a forewarning for larger events to come.
What's happening this year?
Two papers are being published to to reveal the results of new research on earthquakes and tremor. One study investigates deep earthquakes under the Southern Alps - most are confined to the Earth's upper crust - and the other looks at how tremor was recorded on both onshore seismograms and offshore ocean bottom seismometers.