A lack of independent research was raised as a concern during the Mighty River Power share offering.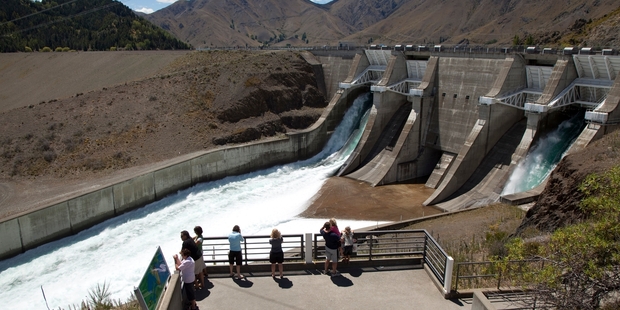 The Shareholders Association has welcomed a move by the stock exchange to help fund independent research on the Meridian Energy sharemarket float but fears remain it may not be enough to convince new investors burned by Mighty River Power.
The NZX yesterday said it would publish reports by Edison and Woodward Partners on Meridian Energy from September 30 - when the Meridian offer opens to the public.
Chief executive Tim Bennett said it was part-funding the reports as part of a pilot research scheme launched by the exchange earlier this year.
A lack of independent research was raised as a concern during the Mighty River Power float. Most of New Zealand's brokers were blocked from making their research public during the share offer because they were involved in the float.
"We would like to get a broader range of investors in these companies and a lack of independent research was a concern in Mighty River," Bennett said.
Lack of research was also a problem for many smaller listed companies as the economics for brokers covering small companies did not stack up, he said.
Grant Diggle, acting chairman of the New Zealand Shareholders Association, said the research would make for a big improvement compared to Mighty River.
But he said it was difficult to know if it would encourage more retail investors to jump in. Around 113,000 people bought shares in Mighty River.
"Last time we got the process started and had a Labour/Greens announcement, who knows what might come out. Then there was Tiwai Point," Diggle said.
"As an association we would hope that more people would invest.
"We would like to think that Meridian would do a bit better."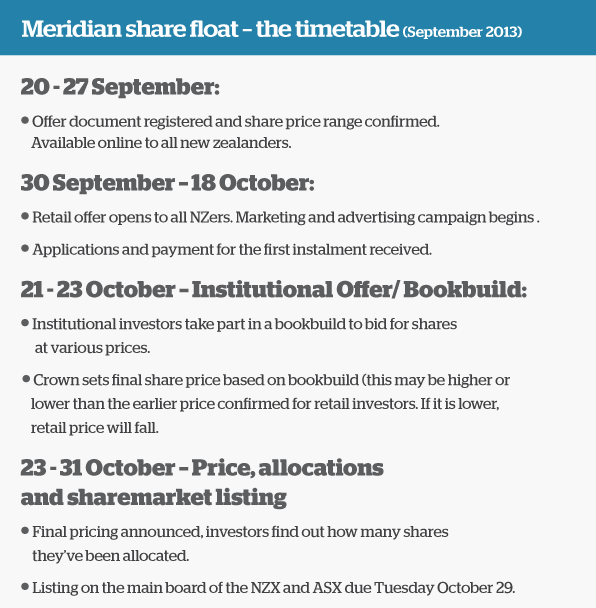 Diggle said Meridian was quite attractive in that investors only had to pay 60 per cent upfront and would then get three dividend payments before having to pay the remaining 40 per cent.
"When you line the two up Meridian has got a lot more attractive aspects to it than Mighty River has."
But Phillip Anderson, an analyst with Devon Funds Management, said it would still be a tough sell to retail investors because Mighty River had been such a poor performer.
Anderson said demand from overseas buyers was also likely to be lower as appetite for high dividend paying stocks had dissipated in the wake of the US Federal Reserve's talk of tapering its stimulus programme.
"If interest rates rise yield stocks are the worst performers." But lower price expectations and the instalment model meant the total amount of money needing to be raised initially was lower than Mighty River.
Analyst reports have put the total value of the company at about $4 billion with the Government planning to sell up to 49 per cent. Anderson said 60 per cent of that would equate to around $1.2 billion - significantly less than the $1.7 billion raised for Mighty River Power.
Details of the Meridian float are due to be made available on Friday.