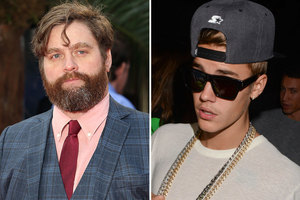 Justin Bieber has poked fun at his recent controversies in an online interview skit with Hangover star Zach Galifianakis.
The "awkward" encounter, on Galifianakis' periodical fake chat show Between Two Ferns, has been posted on comedy website FunnyOrDie.com.
In the five-minute skit, Bieber sits motionless as the angry host quizzes him about urinating in a mop bucket, making inappropriate comments at the Anne Frank Museum, smoking marijuana and his music.
The skit begins with Galifianakis thanking his guest for joining him "right in the middle of your public meltdown".
The actor apologises for the chat's awkward nature and explains: "I've never interviewed a seven-year-old before."
Galifianakis later tells the star his "young punk attitude is not gonna work in this interview".
Bieber, who has done nothing to irritate the host, is asked: "Is it fun to be cocky?" and "You've had three different hairstyles; what's next for your career?"
The pop star tries to politely answer Galifianakis's wild questions, but then the host jumps up, removes his belt and screams: "I don't like your attitude... because you're too young to be smoking pot and pee-peeing in buckets and driving up the highway fast. I don't think your mother would mind if a stranger whipped her son."
Galifianakis pretends to beat Bieber, then apologises and calmly asks the bemused star who he's dating.
The interview ends with the actor accidentally tipping green goo (which had been intended for his guest) all over himself and stating: "I was in the wrong chair."
Follow @nzherald_ent on Twitter for all the latest entertainment news.
- WENN