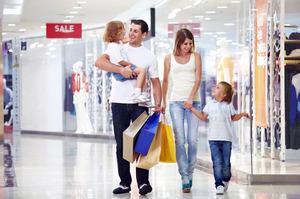 I don't shop in the "sales". That's because it's much better to wait for "clearance". Why get a 10 per cent or 20 per cent discount? If you're patient and canny, many items eventually come down to 50 per cent to 90 per cent off.
We're in clearance season at the moment, for many of the major retailers. At Farmers, for example, the red dot sale period has passed and the remaining stock is in clearout. That means tables and racks of items at less than 50 per cent of the original price. Last year I bought polarised sunglasses at Farmers' Clearout for $20, down from $69.99.
Yellow sticker clearances at The Warehouse can be good for kids' basics such as pyjamas and prices are often more than 50 per cent off.
The Red Shed also has pet care, heaters, whiteware, manchester and books on clearance. What's more, there is a two-for-one sale on yellow-stickered items today at The Warehouse.
It's true that the best-selling items from certain brands rarely go into clearance. But a surprising number do. When the new ranges of products are on their way, stores want to get rid of last year's models.
If you know how your favourite store's clearance system works you can get the best bargains by being patient.
Some retailers, such as Noel Leeming, have specific stores where clearance items are sent. And retailers such as Working Style have outlets in Dressmart or elsewhere.
There are also stores that specialise in selling clearance goods, such as Reduced To Clear, which sells groceries nearing their expiry dates.
Some clever retailers, such as LastSeason.co.nz, bring in clearance goods from overseas and sell them at discount prices here. These are often designs that weren't sold here anyway.
Even high street retailers may put clearance items online only and some may have been bought solely to sell at clearance. If they're cheap enough I can forgive the retailer for this.
While perusing The Warehouse's online clearance this week, I found the JBL On Air Wireless System for $149 plus postage.
This system was selling for $550 last year in New Zealand - although I have to note that Consumer was scathing about it.
One thing to be wary of is the use of the word "clearance". It might simply be a sale, but the word may be used to create a sense of urgency. A true clearance is selling every last item of that product until it's all gone.

Deals
• Lastseason.co.nz: Sissy New Zealand designer clothing up to 90 per cent off
• Postie Plus winter stock up to 70 per cent off instore and online.
• SurplusDirect.co.nz: Musings From The Middle Ages, Kerre Woodham, $10.
• Brands Outlet, Dresssmart. A further 30 per cent off prices.