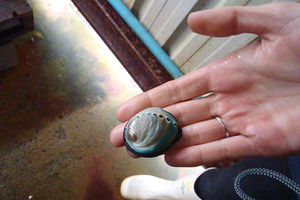 A man who sold illegal paua on Facebook was caught when an undercover officer answered his advert.
Raymond Wayne Major, 34, was sentenced in the Rotorua District Court yesterday to 200 hours' community work after previously pleading guilty to two charges of selling paua taken without a current fishing permit. He was also ordered to forfeit items of his dive gear.
The Ministry for Primary Industries prosecutor told the court Major had advertised paua and kina for sale on his Facebook page.
An undercover officer replied and on February 17 they met in the Pak'n Save carpark where the officer paid Major $100 for 40 paua.
On February 22 Major met and sold the officer another 20 paua for $50.
Major told Judge John Macdonald it had been his daughter's birthday and he didn't have enough money to pay for it.
He said at the time he didn't realise the seriousness of his actions, but now knew it was wrong.
The judge accepted there had been a certain amount of ignorance and Major's offending was unsophisticated.
For more articles from this region, go to Rotorua Daily Post