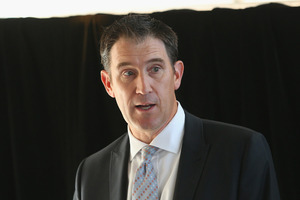 Cricket Australia boss James Sutherland concedes the governing body might need to consider implementing a social media policy in light of the recent David Warner Twitter controversy but insists he'll continue to encourage players to use the forum.
Warner is expected to plead guilty at today's hearing after being charged with breaching CA's code of conduct over his Twitter attack on two journalists on Saturday.
The 26-year-old faces sanctions ranging from a fine, suspension or counselling following his heated exchange with News Limited's Robert Craddock and Malcolm Conn.
Warner had taken exception to an article critical of the Indian Premier League, where he is playing with the Delhi Daredevils.
Sutherland wouldn't be drawn on Warner's case, but said: "We've taken the view that there's something to answer for in this instance."
Sutherland said there had been no discussions about developing a social media policy for players but admits it might be something CA needs to consider.
"We haven't [discussed having a policy] so far," he said.
"We've worked with our players and helped them in training and development and understanding the pitfalls of it.
"It [social media policy] is not something we've talked about but perhaps down the track it might be appropriate.
"I guess we hope our players would be able to know where the lines are drawn and be able to manage that."
Sutherland insists he will continue to encourage players to engage with fans on social media, saying it played an important role in the promotion of the game.
"We want our players to be engaging with fans. Part of our strategy is to put the fans first and for them to have a closer and better relationship with our players."
Warner will have his case heard via teleconference today and is most likely to be fined $5750.
Sutherland said the fact they had Senior Code of Behaviour commissioner Justice Gordon Lewis hearing Warner's case was not an indication of the importance of the matter.
"No, I wouldn't read anything into that," he said.
"The fact that the senior commissioner is hearing it is more about availability at this time of year."
- AAP