Alan Perrott finds out just how different @DanCarter is from the real Dan Carter ...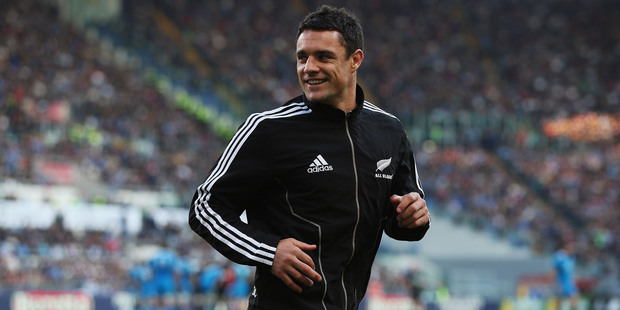 The science is in; Dan Carter's a robot.
Okay, the bloke running about the footy field with his Superman undies on the inside is one thing, even if he is a Cantab and showing definite signs of wear, but this joker tweeting under his name is definitely inhuman.
And not only that, having waded through months and months of this sugarcoated fakery, I think I've contracted diabetes.
No one is this nice. Not even Santa.
Which begs the obvious; what's he hiding?
By the looks he spends an awful lot of time tending his garden. Yeah, whatevs mate, the police might consider poking a few probes into that freshly turned soil. There could be a diabolical reason all the pretenders to your throne have failed.
Otherwise, the cut of his jib was hard to fathom. Until I remembered that robots can't sail ...
Exhibit A. Everyone knows Twitter is a longdrop of bile, yet Carter's most offensive effort to date (April 20 if you have to know) is, and I quote, "Shut your teeth." Not only does this make no sense, I'm not entirely sure it's an insult.
Exhibit B. Forget rugby, he could live off what he makes from standing around in his undies, yet got all excited about finding a shopping coupon with a fuel discount (Feb 3).
Exhibit C. A reference to visiting his dentist came with a #happy. No one in the history of the world has been happy about visiting the murderhouse. Especially on a day off (Feb 19).
Exhibit D. He plays a match (April 28), attends a knees-up do, then rushes home to check in with his monarch caterpillars.
I mean, come on.
Then there's the desperate attempts to hide his silicon diodes behind dimness - would of for would've and your for you're - and blatant cries for attention, nary a day goes by without begging us to like his Facebook page, or ask him questions (and the answer is always vanilla), or help with kicking practice, or or or, just be his friend.
To start with I thought this might be an honest effort to reach out, and, you know, show himself as one of the lads. If by lads you mean the Brady Bunch.
Until the free stuff started to arrive.
Oh everyone, look at my new adidas shoes. Then the new boots. Then the advance copy of the new Shapeshifter album.
Then there was the stress over his online purchase of $1000 worth of clobber, which, when resolved, ended in a pic I swear is one squee short of a Baz Luhrmann song and dance number. Which brings me to his music taste. In the widest possible terms he goes for drum and bass, but it's all the dancing round handbags stuff. Like, he claims to get his pre-match rage on from Nicky Romero/ Avicii's I Could Be The One. I mean again, mate, come on.
Yeah sure, I'll give this pretender points for owning a turntable, turntables are cool. But when it broke down who responded to his tweet for help? Jason bloody Gunn, another too-nice-to-be-real imposter. Maybe they're all in on it? Yep, it's the invasion of the bodysnatchers.