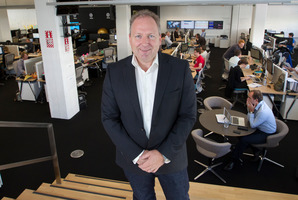 Shares in Rod Drury's accounting software company Xero have hit another all-time high pushing the market capitalisation of the company above The Warehouse and Fisher & Paykel Healthcare.
Xero was up nearly 8 per cent yesterday with more than a million dollars worth of shares traded in one day. The company's shares closed up 85c at $11.50.
Xero's share price has risen more than 130 per cent in the last six months putting the market cap at over $1.3 billion despite it having an annual revenue of just $48 million. The company has yet to make a profit.
Milford Asset Management's Brian Gaynor said it appeared that three overseas investors were buying up shares through separate brokers and driving up the price.
Earlier this week Drury responded to speculation the company was planning a US listing by saying it was too early to take that path.
He told shareholders on Monday the company's share price increase was linked to a higher international profile because of its recent appointment of a former Google executive, US media interest and recent roadshows in Australia attended by more than 3700 accountants.
"Xero is aware of increased interest from overseas investors wanting exposure to the software as a service technology segment.
"Software as a service is seen as a high-growth opportunity with industry revenues expected to grow significantly over the next five years," he said in a statement to the stock exchange.
Drury said Xero remained on track to double its revenue in the year to March 31, 2013 and the company would provide an operating update early next month.