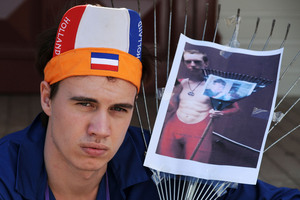 The son of a former Split Enz member is quickly cementing his reputation as Australia's worst internet troll, and his antics are reportedly putting his father's career in jeopardy.
Tristan Barker, 18, is living in Rotorua with father, Michael Barker, while he is wanted for questioning by Australian police over allegedly encouraging Facebook users to ridicule victims of murder and people who had committed suicide. Many of his comments were posted while he was living in Australia.
During an interview on Austereo's Triple M radio station's breakfast show yesterday during he was asked why, with his "whole life in front of you'', he would choose to become a a "troll of the highest order''.
"I have my life in front of me? Like being an internet troll is the same as committing suicide or something like that,'' Mr Barker replied. "What's that about?''
The host also questioned why he had decided to "prey upon people that are weaker than you''.
He replied that the only people weaker than him who he was taking advantage of was "you stupid breakfast jocks giving me some publicity''.
The host abruptly ended the conversation, but not before Mr Barker yelled a string of expletives including: "Hitler did nothing wrong''.
It has been reported that Mr Barker snr's public support of his son could get his band, Swamp Thing, axed from the upcoming WOMADelaide music festival, with festival sponsors meeting to consider such a move.
However, a festival spokesman told APNZ this was not the case and Swamp Thing would be on stage this weekend.
Mr Barker snr has previously said his son had been misquoted and his comments taken out of context many times, which included his comedy being taken as fact.
He said Tristan was an articulate young man who was also very honest.
"He says things I think a lot of people would like to say but probably wouldn't say.''
In one of his posts, the 18-year-old called the Colorado theatre shooting last year, in which 12 people died, a "social experiment''.
"I don't give a f*** about the victims, I don't give a f*** about their families, I don't care, no one should care,'' he wrote on Facebook. He went on to request Americans "end themselves''.
He gained notoriety early last year after trolling the Facebook page of pop star Nicki Minaj with an abusive rant, in which he said wanted to ``punch my cat in the face every time I hear your music or your name''.
"It makes me want to burn down nursing homes and hospitals when I see how many brainless teenage girls you have corrupted.''
He has consistently slammed the mainstream media for taking his comments literally.
- APNZ