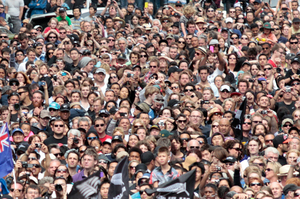 There ain't no party like a census party, 'cause a census party "is statistically within the margin of error."
This week New Zealanders whipped out their pens and keyboards to complete paper or digital versions of the census form in the first such national snapshot sampling since 2006.
Kiwi "tweeps" bantered their way through the completion process on Twitter, questioning the questions and suggesting their own:
Question 4: When were you born?
@brendonRS
: Drinking chamomile & spiced apple tea, with honey to sweeten. Wondering if I should revise my answer to the age question.
Question 7: Where did you usually live five years ago?
@AnnaGConnell
: Thanks to a Gmail chat search and Google maps I remember where I was living in March 2008. The census should be sponsored by Google.
Question 13: In which language(s) could you have a conversation about a lot of everyday things?
@yakmoose
: No one cares that you can speak klingon.
Question 16: Does a health problem or condition [cause difficulties with movement, dexterity, learning, communication and socialising]?
@damianchristie
: Given that he's 16 months old, Harry has problems with basically all of these.
Question 18: What is your religion?
@radiomum
: How can it take a census to discover my husband and I do not share the same religion?
Question 23: [Describe your marital/civil union status]
@vaughndavis
: Tip: Make sure you've stopped crying about the relationship status question before you start crying about the income question.
Question 28: Post your highest qualification
Trolled by a census form >.< ow.ly/i/1CSre

— Emmanuel Turner (@stormrose) March 5, 2013
Question 31: [Describe your income from all sources]
@guywilliamsguy
: I actually don't know how much money I earn! ... I'll just write down "Shops at New World".
Question 36: In [your] job, what tasks or duties do you spend the most time on?
@Spudooli
: Should have reminded all the staff to answer with "Whatever Dave tells me to do, when he tells me to do it."
Questions that didn't make the final cut:
@petrajane: There should be a census question about cheese. Our supermarkets are plagued with fridges full of Camembert because no one asks the real questions.
@alingham: Who stole the cookie from the cookie jar?
Not me?
Yes you?
Couldn't be?
Then who?
Greg
@liamdann: They should at least ask favourite band.
@WinstonAldworth: Census bosses can extrapolate favourite band with algorithm analysing place of birth, occupation, income, age and spouse's name.
- nzherald.co.nz