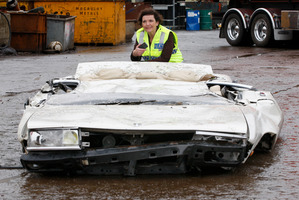 The father of a teenager whose car became the first to be crushed under new boy racer laws and is now for auction on Trade Me said he "just wants the whole thing to go away".
Daniel Briant's Nissan Laurel, now just 30cm high, was the first car to fall victim to former Police Minister Judith Collins' boy racer legislation when it was crushed at a Wellington scrap metal yard last month.
The Trade Me listing by the scrap metal yard, Macaulay Metals, has achieved more than 48,000 views and hundreds of comments so far.
But bidding for the car, previously worth $9000, had reached only $400 by midday yesterday. The auction closes on July 9 and the proceeds are being donated to Youthline.
Briant's father said his son was not happy about the online auction but there wasn't much he could do.
The Paraparaumu teenager's car was seized after three driving offences - driving while suspended, wheel-spinning and dangerous driving - and he was banned from driving for 21 months.
"He's still a bit emotional about it all ... he's got his court case coming up and so he just wants to keep it low and keep out of it," his father, who declined to be named, said yesterday.