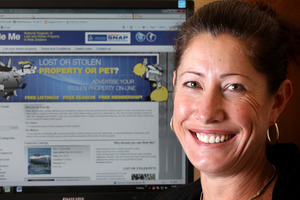 A website which aims to be a national register of stolen goods has had thousands of hits since its launch a week ago.
Stole Me is an online database where victims of crime can list for free, items that have been stolen.
People can also offer a reward for information that leads to the recovery of the property or pet.
In addition, anyone considering buying secondhand goods can use the site to see if the items being bought have been previously listed as stolen.
The website, which was the brainchild of a Rotorua couple, was officially launched last week.
Stole Me business development manager Angela Thomas said there had been about 15,000 hits since its official launch.
"There has been an incredible amount of interest and positive feedback about the site since the launch," she said.
"It has been overwhelming how much the concept is appreciated and seen as such a valuable tool for victims, as well as for secondhand goods buyers."
Ms Thomas said there were about 300 listings on the site and more than 800 members but those figures were increasing daily. Computers and electrical items were the most commonly listed items.
Ms Thomas said everyone involved with the website was thrilled that the concept was now a reality.
"We look forward to continuing to grow the database to gain critical mass, which will maximise the benefit for both listing members and those searching before purchasing second-hand property from elsewhere."
See stoleme.co.nz.
For more articles from this region, go to Rotorua Daily Post