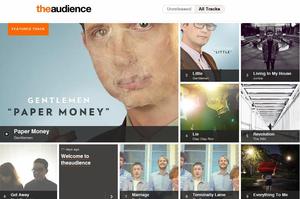 Have you written a song that you think deserves to be heard on the radio? A new website dedicated to fledgling New Zealand artists could help you do just that.
The Audience, which launches today at theaudience.co.nz, aims to give unsigned bands "a chance to break through". It showcases unreleased songs uploaded by the artists themselves, and allows users to stream them, create playlists and vote for their favourite tracks
Each month the site's most popular song will be awarded a $10,000 grant from NZ On Air towards video costs and studio time.
Founded by entertainment lawyer Chris Hocquard and funded by NZ on Air, The Audience also includes weekly charts, radio support and even a stage for Audience-discovered bands to play on at New Year's Eve festival Rhythm & Vines.
Hocquard, owner of Amplifier.co.nz, tells TimeOut The Audience is a "music discovery tool" that bridges the gap between new artists struggling to be heard and those already being supported by the industry.
"It's very hard for a young artist to break through into that mainstream," he says. "You've got a whole infrastructure that exists once things get to a point, but there's never been anything that fills the gap below there.
"This is just a tool that will help them, line them up and give them a chance to break through."
The site is open to all New Zealand artists, but only unreleased songs are open to public voting and grants. Artists can decide whether or not to allow their songs to be downloaded, but they can't charge for them.
Hocquard says today's release is just a soft launch, with around 200 bands signed up so far - including well-known acts like rapper King Kapisi and scuzz-rockers Die!Die!Die! through to lesser known acts Five Mile Town and The Lears.
The site should be "changing and refreshing" all the time, he says.
"It is for fans of New Zealand music to find something they've never heard before, to get behind it, to vote for it, support them and encourage them in the hope that it lifts them up so they get more experience.
"The hope is the next Ladyhawke will have come through The Audience".
When the idea was first announced via social media, it attracted criticism from Phoenix Foundation founder Samuel Flynn Scott.
"I don't want to be a total cynic but there is no shortage of bands' online profile type things out there," Scott said. "What is it actually for?"
But in a subsequent tweet, even Scott admitted he would sign up.
"I think it's just a 'get people's music out there' type thing, I guess. Which is good," he said.
-TimeOut