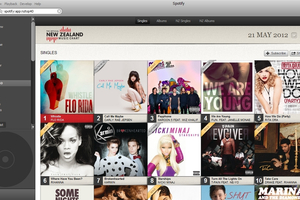 Free music streaming service Spotify has launched in New Zealand, and the Swedish company is promising Kiwi users access to "pretty much everything there is" - including a wide array of local artists.
As was reported by TimeOut in March, Spotify kicked off its New Zealand operations on Tuesday, offering users access to 16 million songs via free-with-ads services on desktop computers to paid premium subscriptions via mobile devices.
Industry experts believe Spotify will change the way music is consumed and help steer music lovers away from illegal file-sharing sites and even Apple's iTunes.
With its massive array of artists, social networking options and up to 20,000 new songs added each day, Spotify is the second major player to enter the New Zealand market following Rdio's debut in February.
And while Kiwi fans could be concerned at a lack of local content, Spotify communications head Jim Butcher says users here will have access to a wide selection of New Zealand artists and songs.
"Part of the reason it's taken us a little bit longer to get out to New Zealand is because we wanted to make sure we did it right," Butcher told TimeOut.
"We've put a hell of a lot of work into making sure we have local music there ... we want to make sure everyone can find what they want."
That includes an exclusive NZ Top 40 app that will be updated weekly and allow listeners to stream heavy hitters on the singles charts.
And if a budding singer-songwriter wants to get their first song on Spotify without dealing with a label, all they need to do is visit the artists' page of the service's website and fill out a form.
"We want to make sure when a song is out, it's on Spotify. We believe that will stop people from going to torrent sites. We want it to be there from day one," says Butcher.
"We've ensured we've spoken to everyone and got everyone on board at launch because if you go on to a music service and search for your favourite band and can't find them, that's not a great experience."
Spotify's free service is available to everyone and subject to advertising. Spotify Unlimited costs $7.49 a month and is ad-free, and Spotify Premium costs $12.99 a month and gives access to music online or offline on a range of devices.
-TimeOut