If you're a fan of unusual signs and statues, make sure you stop for a photo with one of these on your next American road trip.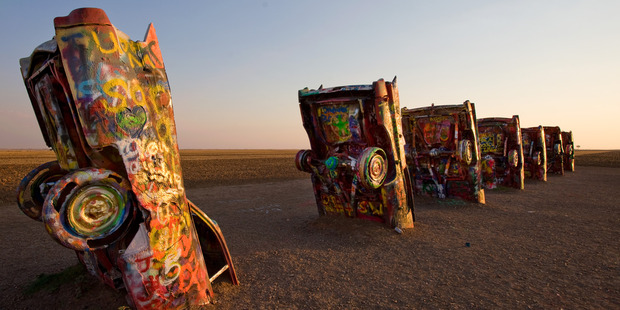 1. Cadillac Ranch - Amarillo, Texas
These 10 Cadillacs managed to avoid the destiny of being crushed after their use-by date. Now they have achieved fame by being painted and buried nose-down in a field in Texas. Representing the golden age of automobiles from 1949 through 1963, the public art installation and sculpture was created in 1974 by members of the art group Ant Farm.
2. Jolly Green Giant - Blue Earth, Minnesota
He looks like he might have eaten too many green veges but that colour represents the giant green man's original purpose in life of promoting peas and, in this instance, celebrating the opening of a Minnesota highway.
He stands at 17m tall and a reported 10,000 people stop each year to see him. His origins hark back to 1925 advertising of the Green Giant brand's "Great Big Tender Peas". The statue is mounted on a pedestal with steps so visitors can be photographed with the giant.
3. Life-Size Chocolate Moose - Scarborough, Maine
Why settle for chocolate mousse when you can have a real life-sized chocolate moose? "Lenny" weighs in at 450kg and sits outside the Len Libby Candy Shop in Maine. Made of milk chocolate, the mousse was sculpted on-site over more than four weeks. He was unveiled in July 1997.
4. Captain James T. Kirk's Future Birthplace - Riverside, Iowa
If you want to go back to the future, drop into Iowa to witness this birthplace memorial. Residents have shown enterprise by proclaiming Riverside the future birthplace of Captain James T. Kirk of the Starship USS Enterprise, even going so far as to get their claim approved officially by Star Trek creator Gene Roddenberry.
5. Lucy the Elephant - Margate, New Jersey
Lucy the wooden elephant weighs 81 tonnes and is 17m tall. She overlooks the beach at Margate and was built in 1881 as a publicity stunt for a property developer. She has outlived the property developer, going on to accommodate a pub and, later, a private home. She's a survivor, withstanding the perils of hurricanes, lightning and a demolition threat.
PLAN YOUR ROAD TRIP
To book your USA road trip: See House of Travel.
Further information: See visittheusa.com.
BE IN TO WIN
Take the quiz, find your roadie and be in to win $10,000 towards your ultimate USA roadie!