Just when you are convinced that men with too much time on their hands have already discovered the most insane ways to risk their lives, you stumble across evidence to the contrary in the Swiss Alps.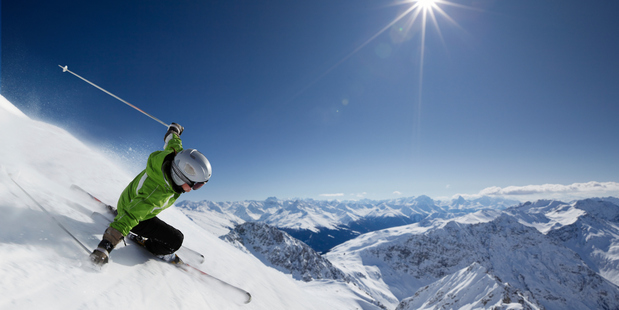 I thought I was pushing the envelope by going to the highest point above Verbier, 3300-metre Mont Fort, and skiing down the steep, deep mogul run that instructors had told me was a bucket-list "must".
But as I prepared for the descent, after taking in Mont Blanc and the chocolate-box panorama around me, I noticed something that took my breath away every bit as swiftly.
It was a steel slide of the sort you might see plunging into a swimming pool at a water theme park.
Only this slide was pitched at an insane angle - around 60 degrees - and was built to send skiers plummeting earthwards into an even more insane piste.
The idea is to help someone become the fastest man on skis, an event Verbier stages at the end of every northern winter.
That man will be wearing a skin-tight suit, an aerodynamic helmet and a face like the south side of the Matterhorn.
He will have to reach speeds exceeding 251km/h to claim the world record.
Once he does, the next trick will be to stop (half of the one-km course is devoted to slowing down) and finish the stunt alive.
I slide over to the crest of the adjacent mogul field, suddenly feeling safe by comparison. But there's a definite air of tension among the skiers gathered around me at the summit.
"The adrenaline is pumping up here, no question about it," says my English guide Nick Reader, an instructor for two years at Verbier.
"Any guy who tells me he doesn't feel any nerves at all ... Well, I simply don't believe him," he says.
"It's a place for butterflies in the stomach, that's for sure."
I complete the 300m run without incident, pleased to have put another notch in my skier's belt.
But no sooner have we gathered our thoughts and started heading further downhill than Reader stops to point out a craggy triangular mountain face to our left.
"That's where they hold the free riding grand final of the world tour," he says.
"They ski down that?" I ask in horror. He nods. I simply don't believe him at first, but that night I check it out online. It's true.
Skiing's equivalent of Wild West gunslingers, daredevils mostly in their 20s propel themselves off the legendary north face of the Bec des Rosses every March in pursuit of glory.
Their brains clearly have not developed to the point of acquiring the stem cells that acknowledge fear.
If the speed merchants up at Mont Fort are borderline insane, these skiers are 100 per cent certifiable.
"They study the whole cliff face very carefully," says Reader.
"Every chute and rock and crevice. They take photographs of it and plan in the finest detail every turn, every jump, every move they plan to make. But if you call them mad I won't argue with you."
It's time for lunch, so we ski down for some raclette - a Swiss cheese specialty, melted by an open fire and served with meat cuts, potatoes and pickles.
The sunny terrace affords Alpine views to die for, though I remind myself not to take this thought literally.
Verbier is one of Europe's headquarters for extreme sports, but it would be wrong to paint it as famous for that alone.
It is also a paradise for intermediate skiers and boarders, with hundreds of kilometres of beginner and intermediate runs in the 4 Vallees region it dominates.
My mogul run certainly got my heart beating, but it seems tame in comparison with the exploits of those free riders.
As I sip a refreshing Rivella, a soft drink based on cheese - like every other comestible here, it seems - a paraglider swoops low over the terrace.
He comes so close you feel you could just about touch him.
He has a school-aged boy on his back, and he is wearing skis in mid-air, so that he can zoom down onto the snow before lifting off again into the thin air of the Alps.
At last, someone normal.
IF YOU GO
GETTING THERE: High speed rail services link all European countries with Switzerland and the St Bernard Express to Le Chable, destination for Verbier.
PLAYING THERE: Verbier is the focal point of Les 4 Vallees, Switzerland's largest ski area. There are 92 lifts, linking a combined 412km of runs at Verbier, La Tzoumaz, Bruson, Nendaz, Veysonnaz and Thyon.
The altitude is 3300m at the top, down to 1103m, and the terrain is 39 per cent beginner, 44 per cent intermediate and 17 per cent advanced.
The ski season runs from early November to April 28.
Handy websites are: MySwitzerland.com, swiss.com, verbier.ch, swissworld.org and swissinfo.ch.
- AAP