Paul Rush learns the world's most sensual dance in the city of 'Good Airs'.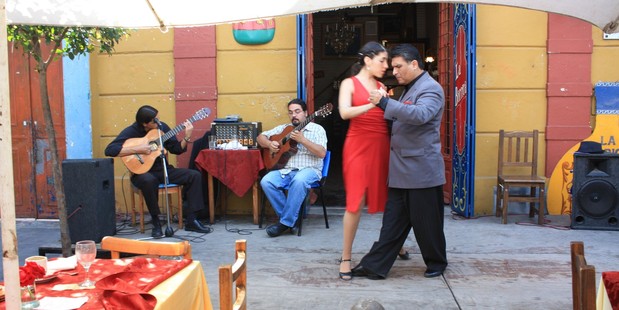 'Buenos Dias Elsa, it's Pablo from Nuevo Zealandia.' The intercom crackles but nothing happens, so I repeat my introduction in fractured Spanish, in front of an old wooden door heavily protected with a security screen. It stands solidly between an internet booth and a confectionery store on Avenue Callao in Buenos Aires.
Finally, there is an audible click and I push the door open and ascend a dark wooden stairway. On the first floor landing a floor-to-ceiling glass panel gives me a view of the 'Petit Palais', one of the hidden secrets of this bustling city of 'Good Airs'. The decor is resoundingly French, with ornate plaster motifs decorating the walls and ceiling. Five couples, across the full age spectrum, are advancing and retreating across the tiled floor, reflected in full-height mirrors.
Their palms are raised and touching gently, with the males seeming to propel their partners forward. The whole cameo has the appearance of a slow motion ritualistic procession and the facial expressions are noticeably strained. These students of the tango, the most sensual dance in the world, are taking their lesson very seriously.
A smiling lady comes rapidly towards me, enfolds me in her arms and places a passionate kiss on each of my cheeks. So, without even taking a step onto the dance floor, I'm already in the moment, learning what powerful emotions the tango can convey. Elsa Maria and her husband Mayoral are the doyen of tango teachers in Buenos Aires. Her International Academy of Tango is a regular meeting place for tourists and Argentines who are eager to learn the secrets of love on a parquet dance floor.
Elsa guides me gently onto the floor and patiently goes through the tango moves, paso por paso, step by step. I feel honoured and humbled at the same time to be dancing with a lady who has forty years of teaching experience. Her previous clients have included Lady Di, Bill and Hillary Clinton, Liza Minnelli, Julio Iglesias, Frank Sinatra and Diego Maradona. In 2003 Elsa was named an 'Illustrious Citizen' of Buenos Aires by the civic government.
After the lesson I walk along Avenue Santa Fe, enjoying the balmy evening air and the bustle of shoppers and clubbers. It doesn't take long to feel the pulse of this electric city. Throngs of smiling, laughing portenos, as the residents of the city are known, are surging through the streets at 10pm - the night is just beginning to come alive.
As I stroll the avenues and alleyways I can't escape the feeling that I'm in a European city rather than Latin America.
The architecture is truly eclectic. I see classic Italian facades with fenestrated windows and large Spanish houses in the hacienda style. There's an intimate park with French lanterns and sculptures that is remarkably like the Bois de Boulogne in Paris.
In the evening I attend the Tango Porteno Dinner & Show in a refurbished Metro Goldwyn Meyer movie theatre next to the Colon Theatre on Avenue Ninth of July. The eight pairs of dancers and three singers are beautifully costumed in formal attire.
Some scenes emphasise the more raunchy moves of the tango dance with the professionals resplendent in flying furs, fedoras and fishnet stockings. Two of the dancers tell me that tango is not just a sultry dance with well-timed sidekicks and fancy footwork - it's a way of life.
La Boca means 'the entrance' in Spanish and this famous docklands district is where I get more acquainted with this grand city and its dance of love. In the mid 19th Century La Boca was an active port crammed with warehouses, taverns and houses built on wooden piles over the water.
The Italian influence can still be seen as I walk with Silvina along the landmark thoroughfare called El Caminito 'the little walkway'. Originally it was a railway track but is now a wonderfully colourful and lively promenade and a melting pot of humanity.
As we thread our way through the human statues, buskers and artwork stalls, we come upon a very professional tango dance couple giving a pavement demonstration outside a cafe. The man is thick set and handsome in a grey double-breasted jacket and black trousers. The woman is slim, statuesque and resplendent in a bright red dress and stilettos.
Two musicians are plucking guitar strings and producing a lively tango tune. I toss some coins in a top hat on the pavement and dance a few steps with the gorgeous woman in red, who surprises me with her athleticism and grace. For a minute or two I'm completely caught up in the passion and panache of the most sensual dance in the world. This is what travelling memories are made of.
I leave the docklands barrio of La Boca with vivid memories of the multi-hued miasma of El Caminito in my mind, along with impressions of murals, passionate people, fine cuisine and, of course, my wonderful dance experience.
The tango is a dance with something for everybody. It is sometimes romantic, often erotic and hot-blooded but always powerful and evocative. If you are visiting Buenos Aires take the short ride down to the docklands. There's always a hearty welcome, a warm embrace and a last tango in La Boca.
- nzherald.co.nz