Jo Bates finds an unkempt, easy beauty in Australia's famous Bondi neighbourhood.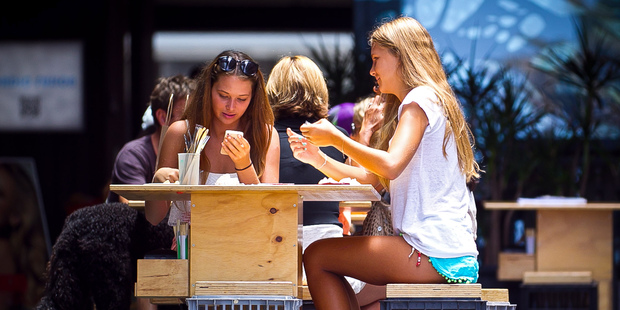 And we think we've nailed "lifestyle"? Even on a Monday night there's an easy buzz about Bondi, Australia's most famous beach-side neighbourhood. Surfers are strolling home as the last light fades, cossie-clad bums are on seats dining outdoors, still with a dusting of sea and sand. The beachy scene is utterly seductive.
Bondi is not polished and perfect; despite the multimillion-dollar real estate price tags, it still has its slightly unkempt look. You only need to glance at the tatty edges to realise that, yes, developers have had a good go - and will continue to do so - but this iconic beach suburb remains in the hands of the locals, who cherish what they have. It evolves, but it also retains.
Free-spirited, creative, culturally vibrant, there's an authenticity beneath Bondi's bronzed perfection. The promenade and beach provide an endless parade of fascination - the buff bodies, the overheard conversations, the Jewish girls silently sweating as they exercise, covered from wrist to calf in dark, heavy garb.
A community cross-section has been converging here for decades and Bondi's own beach culture has evolved: its unspoken demarcations put the backpackers at the south end, where they busy themselves getting caught in the "backpacker express" (the notorious rip); at the other end are the locals - from families to ripped, bullet-proof bodies - extending to the grassy knoll at North Bondi that the cool kids have claimed, and from where they venture to swim off the rocks.
The first time I visited Bondi many years ago I didn't understand what all the fuss was about, but stay a while and you get it - it lets you be who you are, whoever that may be. Here's a taste of where the locals hang out - old and new.
Local faves
The Shop, 78 Curlewis St
Cafe by day, bar by night, this hole-in-the-wall joint has "local" scrawled all over its hotch-potch decor. The owners are also behind Bondi Rd's Panama House and The Corner House
Raw Bar, cnr Warners and Wairoa Ave
Locals can't get enough of this Japanese eatery that's been up and running since 1995.
Speakeasy Bar, 83 Curlewis St
A lounge bar for "notorious strumpets and dangerous beaus", Fiorella, the owner, confirms that this petite bar is a local haunt rather than for "travellers" (backpackers) - they don't drift that far from the beach.
Earth Food Store Cafe, 81A Gould St
For the best coffee in Bondi, see Nick, who has been the barista for more than 10 years.
North Bondi RSL, 118-120 Ramsgate Ave
Pull up for primo views and a beer at this top location. This is a Returned Servicemen's Club, so expect a respectful minute's silence at 6pm.
Gertrude & Alice Cafe Bookstore, 46 Hall St
As in Stein and B Toklas, the shop has been a much-loved purveyor of books for eight years.
New in town
Bondi Hardware, 39 Hall St
Open a little more than a year, the young owners who gutted this ex-hardware store have nailed the essence of Bondi - laid-back and welcoming.
Paper Planes, Shop 15, 178 Campbell Pde
This contemporary Japanese eatery does delicious flavours and generous portions. The lychee martini is a triumph, too.
Miss Chu, 178 Campbell Pde
Vietnamese favourites and street food, plus a few cute design touches.
The Bucket List, Bondi Pavilion, Queen Elizabeth Drive
Super-popular for its great views, good times and food and drink.
The Hill Eatery, Shop 5, 39-53 Campbell Pde
On-trend for sustainable, traceable, stylish food.
CHECKLIST

Getting There
Fly there with Air New Zealand Book now
Find out more at Australia.com