Peter Malcouronne meets new arrivals at Auckland Airport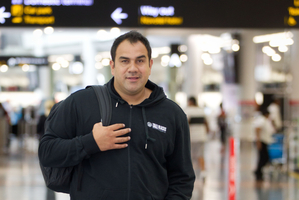 Big, barrel-chested - with King Kong-sized hands and size-18 feet - he looks terribly familiar.
"I coach a team," he says, softly. "A basketball team." It's Pero Cameron; of course it is. Only our most talented basketballer of all time. For two decades, he barnstormed around the world and, they say, nearly made the NBA. Nearly. Still, he led New Zealand to fourth at the 2002 World Championships - and made the Tournament Team. Not bad. He grins. "Well ... Mum was happy."
He retired in 2010 and lives on the Gold Coast. "I moved there with the whanau in 2007. Played for the Blaze and we stayed on. We love it. The weather's unbelievable. It's changed our world."
Cameron's coaching these days and is taking the New Zealand U20 team to Tasmania for the Australian Champs. It's a good team, he says. He's much happier talking about his charges than himself.
Like Tai Webster, 17, who top-scored for the Tall Blacks at the 2012 World Champs and - you won't know this - was part of the New Zealand team that won the inaugural FIBA 3x3 youth world champs (that's three-on-three ball on a half-court).
Sadly unavailable is Steve Adams, 19, brother of Valerie, who's tipped to be a top-five NBA draft pick: "He's an unbelievable talent. This kid is seven feet. Wears size-21 shoes. Runs 100m in 11 seconds-something. Can run and jump and put his chin on the rim. He's phenomenal."
Cameron's eyes are afire. He loves this game, even if it means he's away from home for months at a time. "But Skype's wonderful, isn't it? I hear from my daughter, Layla - the 7-year-old - every night.
"I'll be asleep and I'll hear, 'Do Do Do Do' ... and it's her. She'll say: 'Mum said 'no', but can I do this?"' He laughs again. "No-ho-ho."
Just normal stuff, he says. His boys, Tobias, 13, and Flynn, 12, are teenagey and not nearly as loquacious. Chips off the old block.
"Yeah, they both play for Queensland. Age group." Their future allegiance? "For as long as they live in my house, it's New Zealand. If they want to play for someone else, they can start paying rent."
TRAVEL TIPS
Cameron: "Passive acceptance - is that the phrase? Shit happens when you're flying and you've gotta learn to handle it. People who don't ... well, you see them in turmoil for the whole flight. They get all wound up, and it takes them three days to get over it. You've just gotta chill. Oh, and hydrate."