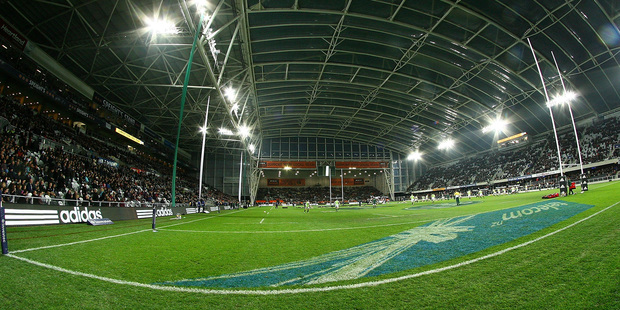 The further south, the warmer the welcome for rugby fans.
Dunedin turned up the heaters in the Forsyth Barr Stadium last night as the All Blacks beat the Springboks 21-11 in front of a sellout crowd of 30,748 fans.
Outside the temperature dropped to 8C with steady drizzle but little wind.
All Black captain Richie McCaw gave the sports arena - known as the "lunch box" - the thumbs up after his first test in the lidded venue.
"I love playing at this stadium," he said, looking up at the roof during a post-match interview. "It's a great place to play."
The only fully enclosed ground in New Zealand already has a reputation as one of the loudests venues in the country, thanks to the echo-type qualities.
However, former All Black coach Laurie Mains also heartily approved of the stadium and congratulated the crowd.
"It was a fabulous occasion for the stadium and fans. The players must have really felt the atmosphere when they ran on to the pitch because the whole place erupted, and the covered stadium makes for an intense atmosphere."
Nichola Keen from Dunedin was blown away too by the atmosphere.
"The city was buzzing before the game and that atmosphere carried on into the ground. Covered stadiums are the way forward."
Former All Black Grahame Thorne said: "It was a fantastic night and the players must have really felt the crowd behind them as soon as they stepped out."
Dunedin mayor Dave Cull said the nail-biting test match had been a fitting first All Black test for the ground.
"It's a fantastic facility ... this is a ground we can be proud of," said Cull.