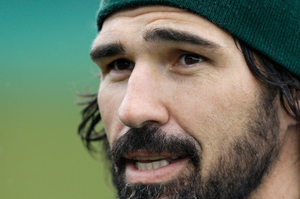 Rumours that South African rugby legend Victor Matfield will come out of retirement and lead his country in a three-test home series against England in June are refusing to go away.
Initially dismissed as an April Fools joke, the belief that the 34-year-old World Cup winner could play for the Springboks again after retiring last October grew apace this week.
Injuries to flankers Schalk Burger and Juan Smith - the main candidates to succeed retired hooker John Smit as skipper - have complicated the captaincy issue with the first test less than two months away.
Burger's expected return for the ongoing Western Stormers' Super Rugby tour of Australasia didn't materialise after he was injured on the season's opening weekend and Smith may be sidelined until next year.
"New Springbok coach Heyneke Meyer asked me to make a comeback to the playing field and it's something I'm giving thought to, but we're a long way from anything being decided," stressed Matfield in an interview.
"If it weren't Heyneke asking me, I wouldn't even consider it," added the 110-cap warrior, whose dream of a second World Cup was dashed in October by a narrow quarter-final loss to Australia in Wellington.
Matfield has been working as a consultant to the Northern Bulls, with whom he won three Super Rugby titles, and as a touchline analyst for pay channel SuperSport.
Meyer heightened speculation over Matfield after a four-day Pretoria camp with players from the Golden Lions and Central Cheetahs Super rugby squads.
"The captain for the England test series will not necessarily be the same one for the rest of the season," he said, referring to six Southern Hemisphere championship games and a three-test, end-of-season tour to the United Kingdom.
"I'll probably announce the captain a week before the first test against England, there are a lot of great leaders to choose from," said the coach who succeeded controversial Peter de Villiers after the World Cup.
However, with Keegan Daniel (Coastal Sharks), Adriaan Strauss (Cheetahs) and Josh Strauss (Lions) unlikely starters against England and Burger injured, that leaves only Pierre Spies (Bulls) among the Super rugby skippers.
Meyer said Jaque Fourie, first-choice centre for the 2011 World Cup, was not available for Springbok selection while serving a two-year contract with Japanese outfit Kobe Steelers.
Butch James, first five-eighths when the Springboks defeated England in the 2003 World Cup final at Stade de France, announced his retirement from test rugby this week after a 42-cap career. South Africa host England on June 9 at Kings Park in Durban.
- AAP