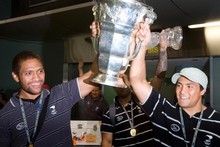 Suncorp Stadium, or Lang Park as it was, is being talked up as a Kiwi-friendly venue.
Relatively speaking, maybe, although the numbers show that Brisbane is just another graveyard for our league lads against Australia.
Since 1908, the Kiwis have won six of 28 games there, whereas overall they do slightly better by winning one in four tests against Australia.
The ledger is worse since Lang Park was opened in the early 1960s - a disastrous four wins out of 21 and only one in the last 10 visits to Brisbane. Ouch.
But there is a flip side. The six Brisbane wins include hugely significant matches in the Kiwis' history.
So here goes. Sunny side up. The Super Six.
1908
A truly dramatic day. Albert Baskiville, the remarkable young man from Wellington who organised the first All Golds tour to Australia, Ceylon and Britain died of pneumonia in a Brisbane hospital days before this match. Baskiville had just played in the first test between the two countries, in Sydney, scoring an intercept try in the win.
The second test was played at Brisbane's Exhibition Ground in front of 4000 spectators. Emotionally charged, fighting off tiredness and illness, the Kiwis won 24-12 to claim the first series between the two countries.
1952
This brilliant Kiwi team won by a cricket score at a cricket ground. Fullback Des White nailed a world record 11 goals, to set up a 49-25 victory before 30,000 people at the Gabba. A subsequent win in Sydney secured the series victory. The Gabba was rock hard and Kiwi stand-off George Menzies, dazed after being dumped on his head, tried to line up with his Australian opponents at one stage. This game of 14 tries involved the most points conceded by Australia. It also remains their heaviest test defeat, alongside the 24-0 Tri Nations final loss against the Kiwis five years ago.
1963
A Kiwi team including some of our finest won 16-13 at Lang Park before a 30,000 crowd, but lost the series. This was the era of unlimited tackles ... and biffo. Match reports concentrate on the stoush which resulted in prop Maunga Emery (grandfather of Stacey Jones) and his Aussie opposite Peter Gallagher being sent off. Tough-nut wing Ken McCracken - father of future Kiwi Jarrod McCracken - scored the late winner from a long-range move.
1983
A never-to-be-forgotten night at Lang Park. After 14 consecutive test defeats since 1971 the Kiwis triumphed 19-12. Legends were born in Brisbane, including that of their young coach, Graham Lowe. The Kiwis overcame adversity, missing injured stars Mark Graham and Olsen Filipaina. Australia were also hit but still fielded Wally Lewis, Mal Meninga and co. Who will forget young Joe Ropati's match-sealing try? The Kiwis celebrated their victory with a haka. A new era of Kiwi optimism, helped by Lowe's charisma, had arrived.
1987
All the promise of 1983 had evaporated, surprise surprise. The 1985 series had been lost - despite a brilliant win at Carlaw Park - and the Australians smashed New Zealand in 1986. There was a disappointing drawn series in England, and rancour over coach Lowe's departure to Wigan. Tony "Tank" Gordon's team evoked memories of 1983 before a small crowd at Lang Park - another rose among the thorns in our transtasman league duels.
2008
A run of eight Australian test victories came to a halt as the Kiwis, under Steve Kearney and Wayne Bennett, won the World Cup final for the first time with a stunning 34-20 win in front of 50,000 at the beautifully re-built Suncorp Stadium. One moment to remember - the brain explosion by Australia's champion fullback Billy Slater when he hurled the ball over his head to Benji Marshall for a try. Coming three years after Brian McClennan's team had beaten Australia twice in a year including in the Tri Nations final at Leeds, Australia's aura of invincibility was dented ... just a little bit.
By Chris Rattue

Email

Chris