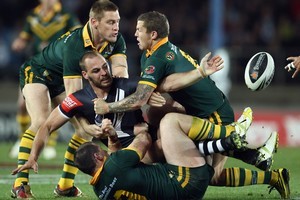 Apparently the Australians weren't taking the match seriously; they weren't really that bothered because they had already earned their ticket for Saturday's Four Nations final.
If they weren't taking this seriously, you would hate to think what they can produce in Brisbane on Saturday.
They convincingly beat the Kiwis, out-scoring the home side six tries to two in a clinical performance of power, pace and skill.
It was a shame for the healthy crowd of 44,324 who had come out to Eden Park for the first rugby league international at the ground since the 1988 World Cup final.
Not that some of them covered themselves in glory - many of them looked to create their own fun by throwing plastic beer bottles on to the ground as Australia ran away with the match.
One even threw a bottle at Cameron Smith as he was lining up a conversion.
It will be just one of the talking points from last night. This match was supposed to be a trial run for next year's Rugby World Cup and scenes from last night just can't be allowed to happen in 10 months' time.
One spectator even invaded the pitch and nearly got caught up in the play as Australia attacked the line.
What people really should have been marvelling at was the skill, intensity and intelligence of the Kangaroos. They were nothing short of brilliant at times.
There were many who had criticised their ploy to rest a handful of players, especially Darren Lockyer and Billy Slater, saying it was disrespectful and showed a lack of commitment.
Few would have been questioning it after the opening exchanges.
They attacked the line with vigour, played with incredible intensity and out-muscled a physical Kiwis forward pack.
Shillington and Paul Gallen in particular took it upon themselves to get in the faces of the New Zealand players to try to put them off their stride.
For 24 minutes it worked, as they opened out to a handy 18-2 lead, thanks to tries to Cooper Cronk, Brett Morris and Brent Tate.
They were playing at a quicker pace than the Kiwis and hooker Cameron Smith masterfully changed the point of attack to keep the Kiwis on the back foot.
He knew where to find the half-gaps and when to switch the play when the home were short-handed on one side.
After 20 minutes, it felt like Australia would run away with it and the Kiwis would disappoint just when expectations were growing.
New Zealand have history. When people get excited about them, they can disappoint but when they're written off, like at the 2008 World Cup, they triumph. Maybe they didn't want to use up their win quota on a meaningless match.
The only way Stephen Kearney's side could get back into the game was matching Australia's intensity.
Which is where the likes of the lippy Issac Luke, Jeremy Smith and Frank Pritchard came in.
Brian McClennan used as one of his famous themes the line, bully the bully, and that's what they tried to do.
Luke, all 84kg of him, thought it was a good idea to take on 111kg prop Shillington.
The Kiwis did well to narrow the lead to 18-10 at halftime thanks to a Pritchard try and Benji Marshall penalty but the break for oranges came at the wrong time.
Australia wrestled momentum back from the restart and made the game safe with two quick tries to Darius Boyd and Morris.
Marshall provided two highlights of the half, firstly with an outrageous flick-pass to Jason Nightingale to score and then with a jinking run and clever pass to set up Shaun Kenny-Dowall, but one man can't beat 13.
The Kiwis will need to improve markedly if they are to triumph in Brisbane. They will need to match Australia's intensity and ball-handling and improve their defence, which was leakier than a dripping tap at times.
They aren't likely to have shown everything last night, keeping some in the cupboard for the final. But Australia would have taken the same approach. The Kangaroos will also welcome back Lockyer and Slater.
Then they will be really serious.
New Zealand 20 (F Pritchard, J Nightingale, S Kenny-Dowall tries, B Marshall 4 gls)
Australia 34 (B Morris 2, C Cronk, B Tate, D Boyd, C Lawrence tries; C Smith 3 gls, T Carney 2 gls).
HT: 10-18.