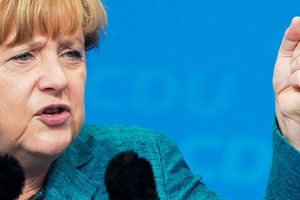 German Chancellor Angela Merkel told voters the euro had secured German jobs and prosperity as she made a defence of the single currency the centrepiece of her campaign for re-election yesterday.
At a campaign stop in Dresden, she disclosed her frustration with the European Union, saying that negotiations over agricultural policy sometimes left her "angry and a bit depressed", but made a passionate defence of the freedoms enjoyed by Europeans.
Speaking in the historic centre of the city, the Neumarkt, which was devastated by fire after Allied bombing in 1945, Merkel said: "It's good to have allies. It's important to us that our allies are our neighbours, the European Union."
As supporters waved orange banners carrying the word "Angie", the Chancellor declared: "Next week, you will decide how Europe progresses." European countries had to stay competitive to maintain their generous welfare states, Merkel said.
"If we don't, we can't have all this. Other countries aren't sleeping - not China, not India, not Brazil."
Dotted among a crowd of several thousand were a dozen banner-waving supporters of Alternative fur Deutschland (AfD), Germany's Eurosceptic party. Their banners read: "The euro has failed."
Merkel told the crowd she was convinced "the euro secures our jobs, secures our prosperity - 50 per cent of our exports are in the eurozone, 60 per cent of our exports are in the EU".