Incoming PM's solutions for asylum seekers create waves with neighbour; Labor going to ballot to elect party's new leader.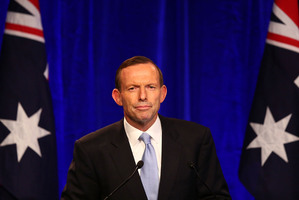 A week after Labor was crushed in an election that stripped the former Government of more than 15 seats Australian politics is still shaking itself down.
Prime Minister-elect Tony Abbott, yesterday formally confirmed as leader by Liberal MPs, has yet to name his new Cabinet amid rumblings within the Coalition and looming problems with Indonesia.
Labor will not have a leader for as long as a month, pushed to a ballot of MPs and party members following the decision by former Deputy Prime Minister Anthony Albanese and former Education Minister Bill Shorten to contest the position.
Labor MPs are also divided over the direction the party should follow, including its present position of joining the Greens in blocking Abbott from axing the carbon tax when his legislation reaches the Senate.
Abbott is expected to confirm most of his existing senior shadow ministers in their portfolios and to have the new Government sworn in early next week by Governor-General Quentin Bryce.
He will immediately have to deal with pressing international issues as well as domestic priorities.
During a telephone conversation with United States President Barack Obama this week that also covered the phased deployment of a Marine task force in the Northern Territory, Abbott promised support for whatever action the US takes in the Syrian crisis - short of sending Australian forces.
But Abbott faces a rougher ride with its closest neighbour.
Indonesian Foreign Minister Marty Natelegawa said Jakarta would not accept key elements of Abbott's policy on asylum seekers, including plans to turn back boats at sea, buy ageing boats that could be used by people smugglers from Indonesian fishermen, and pay villagers to act as informers.
Abbott spoke with Indonesian President Susilo Bambang Yudhoyono on Tuesday and the two will meet at the Apec summit in Bali next month. Abbott said he was confident he could work through any issues.
Incoming Foreign Affairs Minister Julie Bishop said the issue would be discussed during formal bilateral meetings with Indonesian officials in coming weeks and months, and not in the media.
Within the Coalition, Abbott faces problems with his junior Coalition partner, the Nationals, whose leader, Warren Truss, will become Deputy Prime Minister. His likely Agriculture Minister is Barnaby Joyce, an outspoken former Nationals Senator who has switched to the Lower House.
Joyce, elected the Nationals deputy leader yesterday, opposed Indonesian Government plans to buy up to 1 million hectares of cattle country in the Northern Territory to meet its live cattle requirements.
While welcomed by northern cattlemen and in line with Liberal foreign investment policy, Joyce believes farmland should remain largely an Australian asset.
The Nationals are also insisting the Government reject a A$3 billion ($3.4 billion) offer by US food titan Archer Daniels Midland for the former state-owned grain handling company Graincorp.
The purchase has to pass a national interest test and receive approval from the new Treasurer, Joe Hockey.
Meanwhile, Labor must hold a ballot between Albanese and Shorten that, under new rules pushed through by former Prime Minister Kevin Rudd to block future backroom coups, gives equal weighting to votes by MPs and party members.
Albanese is a popular, experienced politician from the party's left. Shorten is a candidate of the right who alienated many MPs after playing a key role in first dumping Rudd for Julia Gillard, then switching allegiance at the last moment to resurrect Rudd.
The ballot will take up to one month to decide. Former Treasurer Chris Bowen will act as interim leader.
But the bitter divisions that ripped Labor apart and ensured its downfall are still simmering. Some senior MPs have been calling for Rudd to quit politics entirely, while others believe the party should allow Abbott to repeal the carbon tax and replace it with his alternative "direct action" policy using a range of other measures to fight climate change.