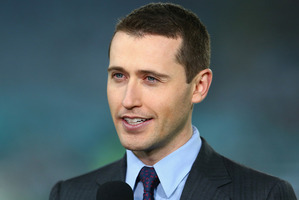 Despite walking away unscathed by allegations of insider tipping in the now-notorious More Joyous furore, Australia's internet gambling king Tom Waterhouse is feeling the blast from outrage over live betting odds.
South Australia will ban the odds from TV and sporting grounds, free-to-air stations intend following suit, and further action is planned by the Labor Government and the federal Opposition.
Negotiations between Waterhouse and the National Rugby League over a multimillion dollar sponsorship deal for the league final, State of Origin games and Kangaroos tests have also collapsed.
The NRL has denied it abandoned the deal because of the row surrounding the 31-year-old bookie.
Waterhouse has built an internet gambling empire extending well beyond horse racing, and has become the lightning rod for anger over live odds and the intrusion of gambling into broadcasts watched by children.
He has also been targeted for his blurred role as advertiser and commentator on Channel Nine's rugby league broadcasts. NRL general manager of strategy Shane Mattiske told ABC's Four Corners that Waterhouse's appearance "wasn't consistent with our view on how sports betting promotion should take place".
Public outrage was further fuelled when advertising guru and horse owner John Singleton last month publicly accused trainer Gai Waterhouse of failing to inform him of a problem suffered by his horse More Joyous but passing the information to her son.
Singleton also alleged Tom Waterhouse had passed his mother's tip on to punting friends. The allegations were dismissed by a stewards' inquiry. But the heat remained on Waterhouse as the most public face of TV gambling.
SA Premier Jay Weatherhill has now announced that live odds betting will be banned from TV and sporting grounds in the state - but not from the internet - before the year's end.
"It won't disappoint me and I don't think it will disappoint hundreds of thousands of South Australians to be seeing less of Tom Waterhouse on our television screens," he said.
The federal Government is also planning a new code banning live odds, and Opposition Leader Tony Abbott has said he will take action if he wins the September 14 election unless TV networks drop the practice.