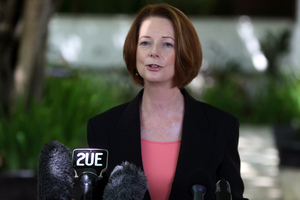 Australian Prime Minister Julia Gillard has retained the leadership of the Labor party after Kevin Rudd decided against standing for a leadership vote in the ALP caucus.
No one else challenged Ms Gillard for the leadership at the spill.
Treasurer Wayne Swan remains as deputy prime minister after Simon Crean withdrew his nomination.
"Both were duly elected unopposed and unanimously by the parliamentary caucus,'' caucus returning officer Chris Hayes told reporters in Canberra in Thursday.
He said Mr Crean was addressing caucus when Mr Hayes came out to address media.
Ms Gillard later left the meeting smiling with Mr Swan.
Mr Crean walked in another direction.
"I think this puts aside all the instability that's been associated with peoples' actions around the leadership issue and allows us to focus on moving on and talk to the electorate,'' Mr Hayes said.
Ms Gillard called the spill after Mr Crean held a press conference to call for a leadership ballot shortly before question time.
- AAP