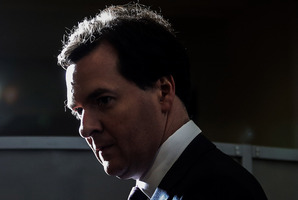 Rating agency Moody's has cut Britain's debt rating by one notch from the top-grade AAA to Aa1, citing slow growth and a rising debt burden.
Moody's also cut its AAA rating for the country's central bank, the Bank of England, by one step, also to Aa1.
The main driver for the sovereign downgrade, Moody's said, "is the increasing clarity that, despite considerable structural economic strengths, the UK's economic growth will remain sluggish over the next few years.''
The British economy is constrained both by the turgid global economy, Moody's said, and the drag from businesses and the British government slashing their debt burdens.
Moody's said the country's recovery has proven to be significantly slower than previous rebounds from recession, and Moody's said it did not expect the situation to change.
"Moreover, while the government's recent Funding for Lending Scheme has the potential to support a surge in growth, Moody's believes the risks to the growth outlook remain skewed to the downside.''
Moody's said that slow growth would retard a projected rise in tax revenues and make progress difficult for the government's fiscal consolidation program, "which will now extend well into the next parliament.''
Meanwhile, the government's growing debt load would reduce the shock-absorption capacity of government finances at least into 2016.
Moody's projected that government debt would continue to rise and peak at 96 percent of gross domestic product in 2016, much later than previous projections.
"After it was elected in 2010, the government outlined a fiscal consolidation program that would run through this parliament's five-year term and place the net public-sector debt-to-GDP ratio on a declining trajectory by the 2015-16 financial year,'' ratings agency said.
"Now, however, the government has announced that fiscal consolidation will extend into the next parliament, which necessarily makes their implementation less certain.''
Moody's however put Britain on a stable outlook, guardedly confident that political will combined with some medium-term fundamental economic strengths "will, in time, allow the government to implement its fiscal consolidation plan and reverse the UK's debt trajectory.''
British finance minister George Osborne said Friday that the decision by ratings agency Moody's to downgrade Britain's AAA status was a stark reminder of Britain's massive debt burden.
"Tonight we have a stark reminder of the debt problems facing our country _ and the clearest possible warning to anyone who thinks we can run away from dealing with those problems,'' Osborne said in a statement.
"Far from weakening our resolve to deliver our economic recovery plan, this decision redoubles it. We will go on delivering the plan that has cut the deficit by a quarter, and given us record low interest rates and record numbers of jobs.''
Moody's cut Britain's top-grade AAA rating on Friday by one notch to Aa1, citing slow growth and a rising debt burden.
Osborne acknowledged that Britain faces "huge challenges at home from the debts built up over many many years'', but added that the situation was not made any easier by "the very weak economic situation in Europe''.
"We are not going to run away from our problems, we are going to overcome them,'' he added.
- AFP