Weapons still flow to Assad regime while UK attempt to aid rebels rebuffed at EU meeting.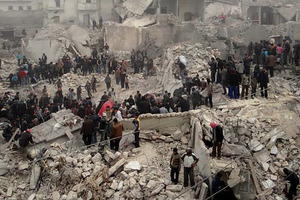 Russia has been accused by Western diplomats of reneging on a pledge to stop supplying arms to the Syrian regime.
The assurances made more than a month ago were presented by British officials as a sign the Kremlin was distancing itself from President Bashar al-Assad and his ruling cabal.
The flow of arms has, however, continued unhindered, the Russians stressing that there was no United Nations prohibition on supplies and it was simply fulfilling its contractual obligations.
As well as air and naval defence systems, the Kremlin may now be preparing to send Yak-130 jets which can be fitted with missiles to carry out ground attacks, according to US and European officials.
The Syrian regime has extensively used warplanes to carry out raids on heavily populated areas, leading to dozens of civilian casualties. Russia's state arms agency holds a US$550 million ($651 million) contract to supply 36 of the Yaks, which are trainers but can also be used on combat missions.
Last year, a Russian-operated ship carrying helicopter gunships and air-defence missiles was forced to turn back to Russia after its British insurers withdrew coverage. The aircraft were then sent using a different shipping company.
While Assad's regime continues to receive weapons, from Iran as well as Russia, a British attempt to give military aid to the Syrian rebels failed at a European Union meeting in Brussels yesterday. There was agreement, instead, on an amendment which would allow more "non-lethal" assistance to the opposition.
British Prime Minister David Cameron's Government was isolated in its efforts to strengthen the moderate revolutionary factions, who have been increasingly sidelined by jihadist groups receiving arms and money from backers in the Gulf states.
Russia has insisted it is within its rights to keep arming the regime as there are no UN resolutions prohibiting this.
Anatoly Isaikin, the director of Rosoboronexport, Russia's huge state corporation arms agency, said: "In the absence of [UN] sanctions, we are continuing to fulfil our contract obligations. We are mostly shipping air-defence systems and repair equipment intended for various branches of the military."
The British move was opposed by Germany and Scandinavian countries.
The French, who had backed the British position, have become more lukewarm since the troops they sent to Mali found Western arms supplied to Libyan rebels in the jihadist arsenal. "Technical assistance and protection of civilians will be easier," said Foreign Minister Laurent Fabius. Independent