Archived letter contradicts Kremlin story that Yakov Dzhugashvili was captured.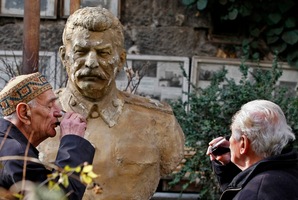 Joseph Stalin's son surrendered to the Germans during the Nazis' 1941 invasion of the Soviet Union, new evidence found in Russian archives suggests, and was not "captured" as Kremlin propaganda held for decades.
Stalin is known to have despised his first son, Yakov Dzhugashvili, who is thought to have committed suicide in 1943 by electrocuting himself on a perimeter fence while being held prisoner in the Sachsenhausen concentration camp at Oranienburg, in eastern Germany.
But for decades after the Soviet victory, official propaganda refused to waver from the official Stalinist version that before his death, Dzhugashvili was captured by German forces near Minsk while serving as a Red Army battery commander.
But Russian archive material published by Germany's Der Spiegel magazine suggests that Dzhugashvili not only willingly surrendered to the Germans during World War II but that he was both anti-Semitic and highly critical of the Red Army when questioned by his captors.
The evidence implying surrender is contained in a letter written by Dzhugashvili's brigade commissar, Alexei Rumyanzev, to the Red Army's political director.
It insists that Stalin's son behaved "fearlessly and impeccably" as a battery commander.
But it goes on to explain how after his battery was bombed by the Nazis, Dzhugashvili and a Red Army soldier named Popuride escaped.
"They buried their papers and put on civilian clothing," the letter states.
But it adds: "When they reached the lakeside, Comrade Dzhugashvili told Popuride to keep going, but said that he wanted to stay and rest."
Der Spiegel said the admission that Stalin's son had wanted to "stay and rest" indicated that he had handed himself over. Independent