Lacklustre performance of rival Pier Luigi Bersani is opening door to maverick former Prime Minister.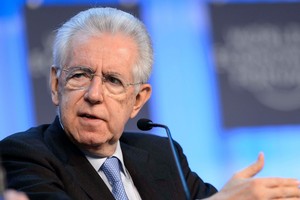 When Silvio Berlusconi put his foot in his mouth yet again last week, claiming that kickbacks were a normal part of doing business abroad, Italy waited for a crushing rebuke from his main opponent in next weekend's election.
But Pier Luigi Bersani is not a man for the cut and thrust of tough political campaigning and, as usual, failed to deliver the killer blow, managing instead the rather limp soundbite: "Enough with bribes, enough with Berlusconi."
It was no better than Bersani's normal service in front of TV cameras, where the head of Italy's centre-left coalition often looks distracted and uncomfortable.
But a lot is riding on him becoming a credible rival to the three-times Prime Minister. Millions of Italians, and even foreign Governments, look to Bersani to stop a Berlusconi surge which analysts fear could prompt political paralysis and take Europe and the global economy back to the brink of disaster.
The final polls allowed before the run-in to the elections next Sunday night NZT showed Berlusconi's support had risen to only five points behind Bersani's leading coalition, thanks to a skilful blitz on Italy's TV talk shows, where he is never lost for words. "At the very most, Bersani would do okay as the mayor of Bologna," was a choice putdown.
Bersani, 61, a former communist and son of a mechanic, has been a political activist since he organised, as a child, a strike of altar boys at his local church to protest at the priest's use of donation money.
A fan of the rock group AC/DC, he is married to a pharmacist from his home town in Emilia Romagna. It is all a far cry from Berlusconi's "bunga-bunga" parties and dalliances with showgirls.
As the leader of the Democratic Party, Bersani has found himself accountable to the party's trade union backers, who last year resisted Prime Minister Mario Monti's attempts to reform the labour market.
He has proved a tough reformer himself, using his 18 months as a minister in Romano Prodi's Government to cut the cost of using a mobile with legislation that challenged the cartel-like tendencies of Italy's mobile-phone operators - exactly the sort of reforms which many people think Monti's technocrat Government should have passed more of last year.
But Bersani's drifting speeches, which he peppers with folksy sayings, have become the favourite target of comedians as the election nears.
Bersani may yet win the Italian Parliament's Lower House, but could be forced into a Senate alliance with Monti to keep Berlusconi at bay.
Both Bersani and Monti promise reform of Italy's sclerotic economy, mixed with an easing on tax hikes, although the deal could yet be ruined by Bersani's left-wing coalition ally, Nichi Vendola, who loathes Monti's love of austerity and has said he will refuse to be "the poodle" in a coalition.
That has left Bersani stuck in the middle, as Berlusconi is building consensus by promising to pay back in cash a hated housing tax imposed by Monti last year, and grabbing headlines by signing Mario Balotelli to his AC Milan side, with the striker from Manchester City making an immediate impact on the pitch.
But one politician who continues to pack piazzas in Italy could prove an equal threat.
The comic Beppe Grillo, who rails against corrupt politicians and is profiting from a spate of big company scandals, already outpolls Monti, with 16 per cent.
He is not standing in the election, but the Five Star Movement party he co-founded is expected to fill about 10 per cent of the seats in both the Chamber of Deputies and the Senate.
Grillo was convicted after a 1980 traffic accident for manslaughter, which prohibits him, under his party's rules, from running for the top office.
"Grillini" could further weaken Bersani in the Senate and obstruct lower house bills, increasing fears of a numerically weak Bersani-Monti coalition Government collapsing within months.
Grillo has planned a massive pre-election rally in Piazza San Giovanni in Rome. "The centre-left is now realising we are here, but it's too late," he said. "Bersani is the past, we won't remember him in six months."
The candidates
Pier Luigi Bersani: Amenable centre-left leader who induces yawns. Dubbed Gargamel after the balding baddie in The Smurfs.
Nichi Vendola: Gay Governor of Puglia, who heads the Left Ecology Freedom Party. Nervous at the prospect of an alliance with centrist Mario Monti.
Silvio Berlusconi: Claims he only wants to be economy minister, not Prime Minister, in a new Government.
Beppe Grillo: Anti-graft comedian who created the online grassroots Five Star Movement, whose rallies fill piazzas. A manslaughter conviction bars him from running for office, but his party members could win 10 per cent of seats.
Mario Monti: The outgoing Prime Minister, drafted in after Silvio Berlusconi resigned in 2011. An economics professor and former EU commissioner, he was ridiculed for using the word "wow" in a tweet.
- Observer