CIA director-in-waiting shouted down by protesters against antiterrorist attacks.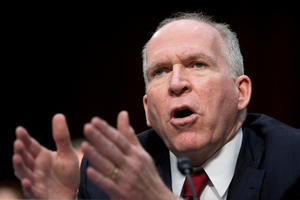 Confronted by public protest and fierce congressional questioning, CIA director-designate John Brennan strongly defended the Obama Administration's secretive but ever broadening use of drones to kill terrorist targets - a policy of which he, as the President's top counterterrorism adviser for the past four years, has been a prime architect.
Hardly had Brennan embarked on his opening statement at his Senate Intelligence Committee confirmation hearing than protesters shouted him down, accusing him of being responsible for the deaths of innocent civilians. Some unfurled a placard declaring "Brennan, a National Security Risk".
After the room had been cleared and proceedings restarted, the senators themselves took up the attack, complaining at being kept in the dark by the CIA, and demanding full access to documents setting out the legal basis for the President's "unfettered power" to order killings, especially of United States citizens.
But Brennan gave as good as he got. "We only take such actions as a last resort to save lives," he told Oregon Democrat Ron Wyden, one of the CIA's most trenchant critics. The protesters "misunderstand what we do as a Government, the agony we go through to make sure we have no collateral damage and death".
His grilling came at a time when the drone programme, run by the CIA and Pentagon, has never been more controversial: specifically because even American citizens can be among the targets; more generally because of the proliferation of innocent victims in countries with which Washington is not formally at war. This, critics say, only inflames resentment of the US and creates more terrorists.
Officially, drone attacks are barely acknowledged by the White House. But, according to a report from the Council of Foreign Relations, over 400 strikes have been carried out against al-Qaeda targets in Pakistan, Yemen and Somalia, killing around 3000.
Stoking criticism too was a recently leaked White House memo drawn up to justify the 2011 killing of Anwar al-Awlaki, a US citizen who moved to Yemen and became a leading al-Qaeda propagandist and recruiter, calling for armed jihad against the US. This document gives the President virtual carte blanche to kill any US citizen suspected of being a senior operational figure in al-Qaeda and deemed to be a loosely defined "imminent threat". But opponents insist it violates the constitution. The Senate hearing was therefore a rare public opportunity to learn the thinking of the man who will head the agency that is both the most important US gatherer of foreign intelligence and the operator of a clandestine paramilitary force. But the tensions inherent between government secrecy and the public's right to know were quickly apparent.
"We need to optimise transparency and optimise secrecy to preserve national security," Brennan said.
Even so, there is little doubt Brennan will be confirmed. Many Republican senators may oppose the choice of their one-time colleague Chuck Hagel as Secretary of Defence, but the vast majority have never had qualms over the use of drones in fighting terrorism. They will agree with Brennan's contention, spelled out in preliminary written answers to the committee, that no further legislation is needed to conduct operations against al-Qaeda.
The danger, if any, is posed by liberal Democrats, led by Wyden who had hinted he might seek to block the nomination without a full explanation of how drone attacks were justified. In response, the White House has reversed course and provided the committee with the original Justice Department document from 2010 setting out the legal basis for assassinations of targets like Awlaki.
Whatever the complaints about his record, the choice of Brennan, 57, has been warmly welcomed at the CIA, where he spent 25 years. That service included stints as station chief in Riyadh, Saudi Arabia, and as chief of staff to former director George Tenet.
Brennan maintains that although he was at the CIA when the George W. Bush Administration authorised so-called "enhanced interrogation techniques" such as waterboarding, he was not involved.
-Independent